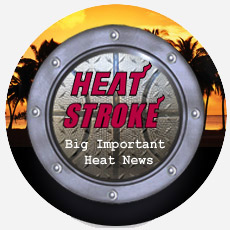 Bar offers to pay tab if Heat lose. Put cart miles and miles before the confetti-covered horse. Posted by Matt Moore
Making your way with the Heat today takes everything you've got. Taking a break from all your worries, like
Joel Anthony
's shot. Wouldn't you like to get away? Sometimes you want to go...
Where the bartender pays your way... as long as the Heat win the day. You want to be where you can see Wade's hamstring looks the same. You want to go where you don't have to pay your way.
Okay, I'm done. So there's this bar in South Beach. And tomorrow, if the Heat lose to the
Celtics
?
They'll pay your tab, up to $25
. So if the team that's been together four months, without their designated shooter, with two players having had injuries in preseason, lose to the defending Eastern Conference champions featuring four Hall of Famers and an all-world defense, you get your beers for free. Note to owners: Do not let hobos find out about this deal. It's a great promotional tactic, but if the Heat win, are they going to keep this up until the Heat lose? Have we mentioned they're in Boston tomorrow night? Because they're in Boston tomorrow night.
Well, as long as we're not getting ahead of ourselves, Miami.