Posted by Ben Golliver.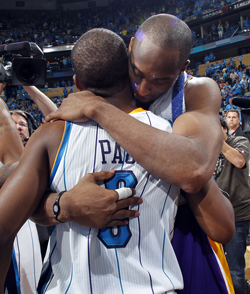 On the same day that
reports indicated
that the New Orleans
Hornets
had engineered a 3-team trade that would have sent All-Star point guard
Chris Paul
to the Los Angeles
Lakers
, the trade, which also was to include the Houston
Rockets
, will not take place as expected.
Yahoo Sports reports
that the NBA, which owns the Hornets and has veto power over all personnel moves, stepped in after prompting from unnamed NBA owners at Thursday's Board of Governors meeting.
The NBA has killed the proposed deal to send Chris Paul to the Los Angeles Lakers, league sources tell Yahoo! Sports. The NBA has caved to pressure from owners that the appearance of this deal, on heels of lockout, had to be stopped, sources tell Y! Sports. "The deal is off," a source involved in the talks tells Y! Sports. "It's dead."
Ken Berger of CBSSports.com confirmed
that the blockbuster deal is now "dead" and that the NBA "pulled the plug" on the trade.
As word of the deal's rejection spread, Paul
posted a one-word message on Twitter
: "Wow."
ESPN.com reported
that Paul was "fuming" about the blocked deal and "exploring [his] legal options" to protest the NBA's decision with the help of National Basketball Players Association executive director Billy Hunter.
NBA.com reported
later Thursday that NBA spokesman Tim Frank issued the following statement: "Not true that owners killed the deal...League office declined to make the trade for basketball reasons."