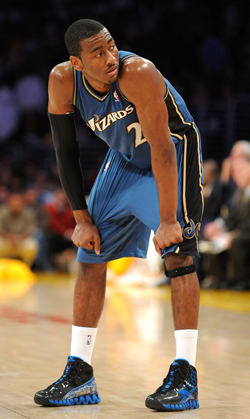 Posted by Royce Young
Blake Griffin
was selected as the first unanimous Rookie of the Year since David Robinson in 1990. Griffin was spectacular not just in terms of highlight plays and dunks, but on the stat sheet too. There really was no question who the top rookie was this season.
But
Wizards
general manager Ernie Grunfeld thinks his man should've won the award.
Grunfeld told the Washington Post
that
John Wall
should've been awarded Rookie of the Year.
"He should've been rookie of the year, except for the rule of a second-year player being eligible ... "Last year, I think Blake did play in a couple of preseason games and he traveled with his team, so he got a feel first. But that's the rule, and he was deserving, obviously. He had a tremendous year. I thought John had a terrific year, also."
It was evidently pointed out to Grunfeld that both Larry Bird and David Robinson didn't play the first year they were drafted either and won Rookie of the Year. Grunfeld pointed out that Boston chose Bird without him declaring and that Robinson was serving in the Navy. So neither were actually with their respective teams.
Wall averaged 16.4 points and 8.3 assists in 69 games, was a near-unanimous choice for the all-rookie team and finished second to Los Angeles
Clippers
all-star forward Blake Griffin, the 2009 No. 1 pick, for rookie of the year.
Grunfeld's not the only person to take the stance that Griffin shouldn't have been eligible. A writer from the New York Post boycotted the voting because he felt that an ineligible player was on the ballot.
My take? All of that is pretty silly. Why should Griffin be eliminated from contention when an injury is what removed him? He didn't play a game so why wouldn't he be a rookie? Sure he got to travel and practice some, but was that really all that advantageous? Griffin was indeed part of a different draft class than Wall. I understand the argument. But in terms of definition, Griffin was a rookie player. This was his second season, but he was still a rookie.