Reactions from around the web from Hawks-Magic Game 2.
Posted by Matt Moore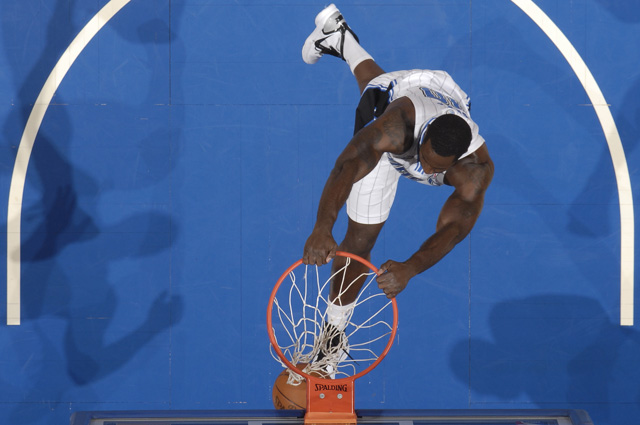 In the second half, Atlanta tried everything to make up the deficit.

After sitting out for most of the first half, it was clear that Larry Drew was going to try everything in his power to get Al Horford involved offensively. Larry Drew did just that, as he immediately called for Horford to get the basketball on the low block-and-go to work against Brandon Bass. However, even though Bass got beat a few times, he put up a great stand against Horford defensively and held his ground more often than not. Horford is a strong player, no question about it, but Bass' lower-body strength allowed him to dig in the trenches. Horford tried all that he could to overwhelm Bass, but he couldn't do it.
via
Recap: Orlando
Magic
88, Atlanta Hawks 82 | Magic Basketball .
This turn of events was really significant. When the mid-range jumpers were failing in the first half, Drew turned to Horford in the block. The Magic even brought help but Horford was rightfully focused on taking Bass on offense (he should have been able to based on scouting reports) and couldn't kick start the perimeter rotation. Not that the Hawks run any sort of perimeter ball movement, but even the theoretical was thwarted. Horford has to be a huge factor in this series if Howard's not guarding or spying him weak-side. He's got to produce as he did in Game 1, even if that means using the mid-range jumper. It was a good example of the Magic's improved defense on the night.
Orlando's head coach used only Jameer Nelson and Hedo Turkoglu at point guard after halftime, leaving Gilbert Arenas and Chris Duhon benched. The decision forced the usually gun-shy Turkoglu to play more aggressively, and though he missed 12 of his 16 shots, he a least ran the offense well and made proper passes. The 6-foot-10 matchup nightmare dished 5 of the Magic's 9 assists, with just 1 turnover, in splitting his 39 minutes between small forward and point guard. If Gilbert Arenas, who's struggled mightily since coming to Orlando in a midseason trade with the Washington Wizards, is out of the Magic's rotation, you bet your sweet behind that's news. For what it's worth, Arenas shot 1-of-3 from the field, with 1 rebound and 1 turnover, in 6 minutes.
via
Orlando Magic 88, Atlanta Hawks 83 - Orlando Pinstriped Post
.
Turkoglu had a fantastic game for a guy who shot 4-16 from the field. A shortening of rotations is expected in the playoffs, but an abandonment of Arenas is pretty big. That makes Arenas a $17 million towel-waver. But you also can't blame SVG for going this route. Turkoglu has the best pick and roll chemistry with Howard. In Game 1, the Magic ran zero plays for the pick-and-roll with the ball going to the roll man. In Game 2, they ran four such plays, with three to
Dwight Howard
. The result? Foul drawn, layup and-one, dunk. The Magic ran those plays in the first half. They did not return to them in the second half. The Magic do run sets out of the pick and roll to the post for Howard, but with Howard's physical and athletic talents, you have to ponder at why in the name of Brian Hill the Magic don't go to that set more often.
In Game 2, the Hawks shot much worse and had a chance to win despite Larry Drew. It was a terribly wasted opportunity but, if Drew can either commit to playing his best players until they are disqualified or not play his worst players until absolutely necessary, the Hawks, in possession of home court advantage, can still conceivably win this series. Which is rather amazing considering they were outscored over the course of the 82 game season and their head coach either didn't try his hardest or proved himself obscenely incompetent in one half of their playoff games.
via
Hoopinion: Atlanta Hawks analysis. Run on pessimism and truth.: Orlando Magic 88 Atlanta Hawks 82
.
There was a lot of talk about the rotations. Collins didn't play much. Horford was sat with two fouls until the half and finished with two fouls as noted by Hoopinion. But the bigger question in my mind was why, in a series where the Hawks have such advantages in terms of the athletic personnel like Johnson,
Josh Smith
, and Al Horford who can play big and in space, the Hawks are slowing the ball down. The question came to me after Game 2. If you flipped coaching staffs in this series, even with Dwight Howard the best overall player in the series, wouldn't the Hawks be an overwhelming favorite? If the Hawks had any semblance of discipline and systemic value with this roster as constructed, wouldn't this look like a clear advantage for the Hawks in terms of matchups and overall ability?
If the Hawks win this series, it's going to seem like they did so despite Larry Drew, not because of him. That's how it's played out in the first two games.
The bigger issue was losing Al Horford. He drew two fouls in the first two minutes and Drew made the curious decision — as he has all season — to sit Horford out for the remainder of the half. When Horford got back into game in the second half, he looked out of rhythm and didn't hit his first bucket until the fourth. The Hawks were outrebounded 52-39. Orlando had 20 offensive boards — most of those when Horford was on the bench.

"I got taken out of the game quick in the first half — I feel like that affected us," Horford said. "They had 16 offensive rebounds in the first half. That's something I have to be more conscious about. I was out of rhythm. It took me a while to get going. The team played well but we just missed some shots."
via
Hawks lose to Magic but prove something in process | Jeff Schultz
.
Here's an interesting one. The Hawks had 13 rebounds and 15 second-chance points. The Magic had 20 offensive rebounds and 20 second-chance points. So the Hawks were actually more effective when they did get offensive rebounds than the Magic were. But the question still has to be asked.
What are you saving Al Horford for? Horford's not a streak shooter you want available late. He's the consistent, productive, efficient player that anchors the team and can prevent them from turning into the ISO-heavy disaster they are so often on offense. Two fouls? This is the playoffs. You can't be timid with your best players' minutes. You have depth for a reason. Drew buried himself with this decision.
Orlando Magic point guard Jameer Nelson woke up with a migraine headache on Tuesday morning, causing him to sit out shootaround and putting his status into question leading up to the Magic's playoff game against the Hawks.

He went straight home after shootaround and laid down for several hours. Nelson took some medicine before declaring himself OK to play.

Nelson even considered wearing the migraine sunglasses Miami's Dwyane Wade wore earlier this season, but "my teammates were laughing at me," he said.

Asked how he felt a few minutes ago, Nelson said, "sleepy."

He should be OK moving forward, but it's at least something to monitor.
via
Jameer Nelson played through migraine vs. Hawks – Orlando Magic BasketBlog – Orlando Sentinel
.
This just makes
Kirk Hinrich
's night that much worse. The Magic played terrific defense. The fact that their starting point guard was having such pain and they still executed says a lot. It also speaks volumes about benching Duhon and Arenas.