The Lakers are reportedly interested in Rick Adelman to serve as their head coach.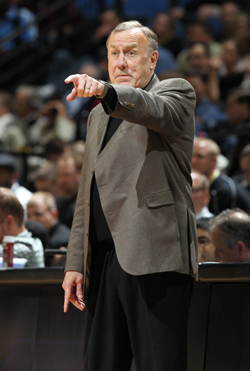 Posted by EOB Staff
With Phil Jackson expected to retire and end a Hall of Fame career, but with the Lakers still with a championship-worthy roster, the search for the next coach in Hollywood is kind of a big deal, even bigger than it normally is. And while Brian Shaw was the presumptive favorite, given the disappointing and altogether unsavory end the Lakers met in the playoffs' second round, there's talk of some of the bigger names being brought in.
The top of that list? Rick Adelman. From ESPN:
NBA coaching sources on Thursday described the Lakers as "very interested" in Rick Adelman as a candidate for the position.

Lakers assistant coach Brian Shaw has the public endorsement of Kobe Bryant and is regarded as by far the strongest in-house candidate for the position.

Yet sources say Lakers officials are intrigued by the Adelman option, not only because of his history of success in Portland, Sacramento and Houston but also his reputation for thriving with veteran teams and the similarities between Adelman's "corner" offense and Jackson's "triangle" offense.

Beyond Shaw and Adelman, sources said, L.A.'s list of potential targets is only just taking shape.
via
Sources: Los Angeles Lakers 'very interested' in Rick Adelman - ESPN Los Angeles
.
Adelman taking over the Lakers would be pretty bitter for Blazers,
Kings
, and
Rockets
fans who supported Adelman against "the Empire" over the past ten years. But at the same time, Adelman's constantly been winning and producing with teams with far less talent, and if anybody deserves a shot at a one-off championship with a loaded, veteran roster... well, it's Jerry Sloan. But after him, it's Adelman, and trying to sell the Casual Sunday Lakers on Sloan's militant approach is a no-go. Adelman has credit with the players, a system similar to the triangle, at least in some regards, and experience.
Adelman's going to have his pick of jobs. But the Los Angeles Lakers, with another year of Kobe, Gasol, Odom, and possibly Bynum? He's not going to find a sweeter job than that.