San Antonio Spurs guard Manu Ginobili left Wednesday's game with an elbow injury. Posted by Ben Golliver.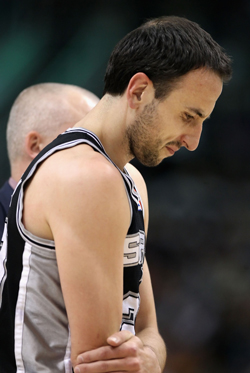 Update:
The San Antonio Spurs
announced on Thursday
that guard Manu Ginobili is "doubtful" for Game 1 against the Memphis
Grizzlies
after an MRI revealed he sprained his elbow on Wednesday night. Here's the team's full statement.
"Spurs guard Manu Ginobili had an MRI earlier today in San Antonio. The MRI showed that he has a right elbow sprain. The injury occurred in the first quarter of last night's Spurs-Suns game. Ginobili has already begun his rehabilitation process and will be listed as doubtful for Game 1 of the Spurs-Grizzlies series, which is scheduled for noon on Sunday at the AT&T Center.
Original Post:
Less than four minutes into the first quarter of a Wednesday night game against the Phoenix
Suns
, San Antonio Spurs guard Manu Ginobili left the game with a right elbow injury. Ginobili was shown clutching his arm on the bench in significant pain and was quickly escorted to the locker room by Spurs training staff.
During second quarter action, the
San Antonio Express-News reported
: "Manu Ginobili has a hyperextended right elbow. X-rays are negative. He will be re-examined Thursday in San Antonio."
The paper noted shortly after Ginobili went down that he "appeared to get his elbow bent backwards on collision with Duncan/Grant Hill ... Whatever happened, he's in some serious pain."
San Antonio coach Gregg Popovich had rested Ginobili during Tuesday night's game against the Los Angeles
Lakers
but decided to use Wednesday night's game as a playoff tune-up. Should Ginobili miss any time due to the injury, the second-guessers will be out in full force.
Ginobili is averaging 17.6 points, 5.0 assists, 3.7 rebounds and 1.6 steals this season. He has appeared in 80 games this year for the Spurs.
San Antonio is locked into the Western Conference's No. 1 seed. They will face the No. 8 seed Memphis Grizzlies.