Doubt about the future of New Orleans is beginning to creep in as attendance deadline nears.
Posted by Matt Moore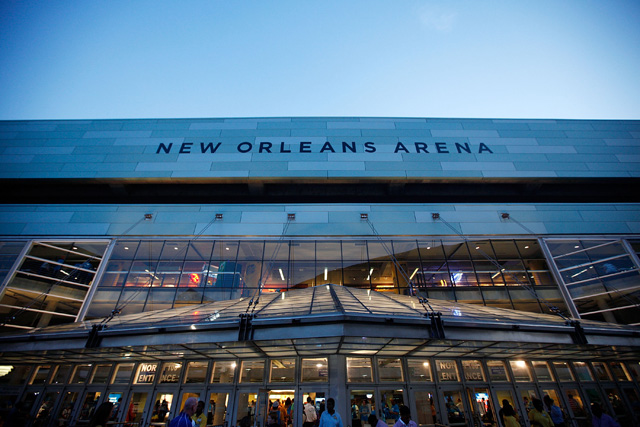 There's been constant talk regarding the
Hornets
relocating since their (still) current owner George Shinn already moved the team once from Charlotte and has always hungered for the dollar. But when the Hornets started rocking in 2007-2008, those talks subsided as the city got behind the team.
Now, with the team off to a hot (although starting to cool) start, surely the city has responded and there are no legality concerns surrounding the arena attendance, right? Right?
Oh, heck.
If the Hornets do not average crowds of at least 14,213 for the next 13 games at the New Orleans Arena, the franchise can opt out of its current lease agreement with the state, according to Doug Thornton, vice president of SMG, the company that manages the Arena and the Superdome.

The Hornets and the state amended their lease agreement in 2007 to extend it through 2014, but an attendance benchmark of 14,735 was implemented. The franchise can opt out of the pact if the benchmark is not made over a period of two consecutive years during the agreement.
via
Apparently, the attendance benchmark is back on the table for the New Orleans Hornets | NOLA.com
.
The real problem here is that there's no real way to figure it out. New Orleans has long been viewed as suspect from a financial standpoint. In major markets, ticket price alone and sheer demand will keep you afloat (see:
Clippers
, The Los Angeles). But in smaller markets like NOLA, you have to rely on support, especially in the "fat" years when you're winning in order to survive the "lean" years when you're rebuilding.
And the Hornets just aren't getting it. Now these numbers are more complicated than just ticket sales, since sponsorships and suites have more to do with the economics of arenas nowadays than actual sales. But those provisions are built in for a reason, to protect the team from a city that just won't support it.
Now, I'm sure Hornets fans feel very strongly about their team and its support, but the numbers unfortunately are pretty damning. And with this kind of economy, it becomes harder for a new owner in Gary Chouest to avoid looking at the options. Chouest however, has given no indications that he'll move the team during his discussions.
Then again, Chouest hasn't been confirmed as owner, yet.
It's a sticky situation for the Hornets, the city, and an arena that insiders say is one of the worst in the league. But they faced a similar situation in 2008, and once the Saints season was done, the city responded. Fans have to trust that will happen again this year, provided
Chris Paul
keeps the good times rolling.