Wrapping up and expanding on the announcement that Greg Oden will have microfracture surgery for the second time, ending his 2010-2011 season and possibly his career. Posted by Matt Moore


Each game is made up of elements which help formulate the outcome. Monday through Friday, we'll bring you the elements from the night before's games in our own specialized version of the game recaps. It's not everything that happened, but it's an insight into what lead to the results you'll see in the box scores. This is
the Game Changer.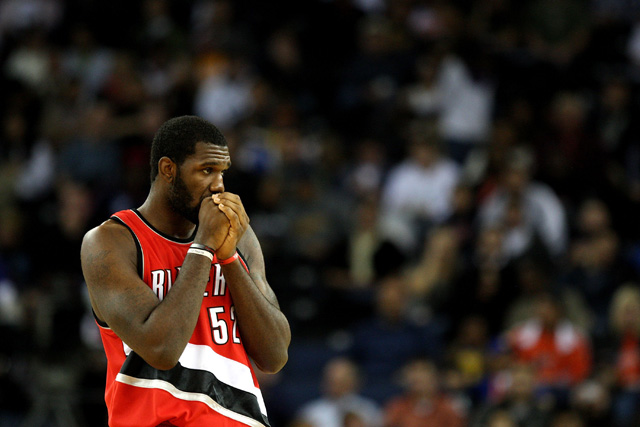 THE BIG ONE: THE ODEN DEBACLE
In lieu of our regular game changer, we're going to provid you with a wrap up of the Oden news. We'll have more on
Chris Bosh
's big night in Miami later on.
Eye on Oden
Here's a debriefing on what's going on with Oden, as seen throughout our coverage last night.
As you've no doubt heard by now, Greg Oden
will undergo microfracture surgery
to repair his left knee. He'll miss the entirety of the 2010-2011 season, and then you have to wonder about recovery time beyond that given the wear and tear on him just from surgeries.
Ken Berger spoke with executives around the league
and it's widely thought that the Blazers won't even make a qualifying offer to him this summer to keep him in restricted free agency, meaning he would be a free agent.
We covered the
press conference live
from the arena last night and brought you both
video
and
audio
of the press conference. Oden's injuries go far beyond just the left knee and
we gave you a comprehensive look at his injury history
. Royce Young provided some context for Oden's experience in
contrast to the rising star
of
Kevin Durant
, and we examined how Oden's trek back to the league compares with some
injury-ridden players
who came before him.
Ben Golliver
went in-depth on Oden's knee
and the situation the Portland trainers are now trying to deal with as they begin to come under severe scrutiny once again.
And you can be sure we'll have more coverage as this unfortunate series of events unfolds. There's a genuine sense of regret and sadness around the NBA blogosphere today. We all wanted to see the next great center. Instead we got the next great disappointment, for Oden and for us.
Around the Web
It took John Canzano to
put up the tombstone
on the Greg Oden era last night, in what had to be a record.
If you're a sadist, or, if you live in Portland and are a masochist, you can read the reaction from Blazers fans to the news first here in
letters to Oden
, and here on the
Blazersedge reaction thread
.
At Hardwood Paroxysm, Zach Harper touches on how this isn't an actual tragedy,
but it is a basketball tragedy
. (Admission: I'm the editor of Hardwood Paroxysm, but I felt this piece was so good it warranted a link.)
Noam Schiller
asks us to remember
the Blazers.
Here's an
FAQ on the injury
with Kevin Pelton of Basketball Prospectus.
Here's another
timeline of this particular injury
.