Posted by Matt Moore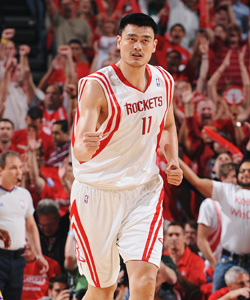 The Rockets finally have Yao Ming healthy. They finally have Tracy McGrady out of their hair. They finally have the pieces together to make another run. But can any of the pieces fit together? Are they really as dangerous as everyone says they are? Does speaking in rhetorical questions make you want to read this, our next selection in our Preseason Primers ? Let's find out as we talk about the Rox.
Training camp site:
Houston, TX (Hidalgo, TX in early October)
Training camp starts:
September 25th
Key additions:
Brad Miller
(free agent),
Courtney Lee
(trade),
Patrick Patterson
(draft)
Key subtractions:
Trevor Ariza
(trade),
David Andersen
(trade)
Likely starting lineup:
Aaron Brooks
(PG),
Kevin Martin
(SG),
Shane Battier
(SF),
Luis Scola
(PF), Yao Ming (C)
Player to watch:
Patrick Patterson. Assuming the Rox don't go all nuts and acquire
Carmelo Anthony
during camp, their starting lineup is pretty well set. But Patterson is a rookie who comes out of that ridiculous Kentucky class and could wind up being the kind of flex player that makes a big impression on Rick Adelman. He's versatile, strong, has a good mid-range, and can work inside of a complex offense. He's got a great opportunity to make an impact for the Rockets during camp.
Chemistry quiz:
The Rockets have seemed like a team that's liked one another for years. They hung together when Yao Ming went down, and their samurai-like approach last year was noble, even if it fell short. Basically, even without the star talent you need to win in this league, the Rockets were the team you didn't want to run into in a dark alley. They were tough, gritty, and hung together. The addition of Kevin Martin, trying to reassert himself as a premier player in this league could cause issues, and there's no telling if the same goodwill will maintain with as many changes as the Rockets have made in the past two years. But the core elements are in place, and the tone of camp should be fun and focused, instead of contentious and tense. Not having solified expectations due to Yao's injury should help with manners as well.
Camp battles:
Small forward was set to be a huge battle but promising second year man
Chase Budinger
tweaked an ankle and won't be able to battle old man Battier for the slot left open by Trevor Ariza's departure.
Jermaine Taylor
, Courtney Lee, and
Jared Jeffries
should have a good one for the backup role behind Martin.
Jordan Hill
vs. Patterson should make for a nice one as well, with Hill's scrap versus Patterson's finesse providing contrast in style.

Injury issues:
Budinger's ankle is significant, but other than that the Rockets seem really healthy and don't have any pro...OH, YEAH. Yao Ming is coming back from an injury that's held him out for a year and a half and is trying to just stay on the floor while the rest of the team holds its breath everytime his feet leave the ground. camp.
Biggest strength:
Doin' work. The Rockets put in a full effort every night, a testament to both the roster assembled and Rick Adelman's job. They lacked an identity last year without Yao, but it did help them to adjust to whatever they faced. The Rockets can get out and run, or grind it out. They're really best when they're doing both. They'll battle for every loose ball and every player knows his role. It's a strong team they've put together.
Glaring weakness:
Three point shooting. Brooks isn't an efficient shooter. Martin's three point shooting dropped off a cliff last season. Budinger can shoot, but the rest of the team isn't great from the arc, including backup point guard
Kyle Lowry
.