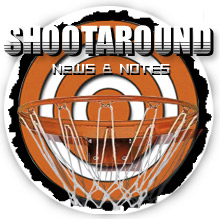 Magic says the Pistons are soft, Roy Hibbert has great hands, and Noah meets the Worm, all in today's Shootaround.
Posted by Matt Moore
So remember when the Pacers traded for Darren Collison and he was supposed to be their point guard of the future, taking them to the next level? Well, they've gotten to the next level, suddenly in a position to contend for a playoff spot. But Collison has been left in the dirt, and can't quite figure out why . People who weren't blown away by Collison's numbers last season questioned his poise and defensive stature, and it would appear those same elements are what is keeping T.J. Ford and A.J. Price in heavy minutes. Who would have thought the Pacers would have a point guard overflow a year ago?
Roy Hibbert has turned into quite the passing big man because of his time spent this summer with Bill Walton. 8 Points, 9 Seconds breaks down what's helped him improve , and his confidence has been as important as his quick decision making. There's something to be said for simply going with your instincts instead of debating yourself into a bad posssession. It's that All-Around play that has to leave you wondering... is Hibbert an All-Star this season? One guy who doesn't think so? His coach .