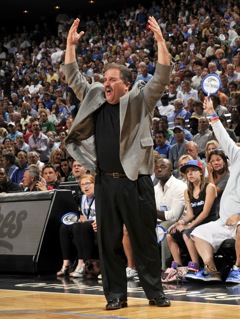 Posted by Royce Young
In 2005, the NBA instituted a dress code for its players to go by and it caused quite a stir. Some called it racist, some called it stupid and some actually thought it was a good idea.
In the end, the controversy dissolved and now everyone seems fine with players arriving wearing a nice pair of corduroy pleated slacks with a tasteful two-button mauve tweed jacket. (I have no idea anything in that last sentence actually is.)
Now, the dress code has moved to include coaches.
Some of the NBA's top sideline wanderers had started taking advantage of the lax dress code rules, one being Stan Van Gundy and his mock turtlenecks. Well, the NBA has had enough of those. Now, coaches are required to wear collared shirts on the sidelines. (Nothing was mentioned about pants, so I assume it's still acceptable to show up bottomless?)
"I want them to at least name the rule after me,"
Van Gundy said in an AP story.
"Somebody has their Bird rights. Larry Bird got that rule named after him. I want it to be the Van Gundy Rule."
The new rule is just a partial change for Van Gundy who has slimmed down a little this offseason by participating in some of the drills - like sprints - insted of barking at his players while they do them. "More like
sprits
,"
Dwight Howard
joked.
"You should have seen me run," Van Gundy said in the AP story. "I don't think you call those sprints. I don't know what it was, but that was far from sprints. That was a 51-year-old, overweight sprint."
Regardless, now Van Gundy will be ready to wear a suit, collared shirt and possibly even a tie for the new coach's dress code rule. I don't think it'll stir up quite the same controversy the player's code did, but that's mainly because the main offender has already been reeled in.