The San Antonio Spurs are reportedly shopping point guard Tony Parker. Posted by Ben Golliver.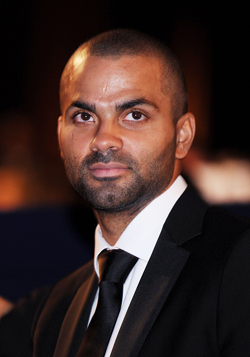 Back in May, shortly after the San Antonio Spurs had been eliminated from the NBA playoffs by the Memphis
Grizzlies
, point guard Tony Parker
made some interesting comments
, telling a French publication that he believed the team's championship window had closed.
Now, it appears that it could be Parker's career as a Spur that is coming to an end.
Yahoo! Sports reports
that Parker's name is coming up in trade talks in advance of the 2011 NBA Draft on Thursday.
The San Antonio Spurs are engaged in discussions about trading point guard Tony Parker to secure a high pick in Thursday's draft, league sources told Yahoo! Sports.

The Spurs have talked to teams in the lottery, including the Toronto Raptors and Sacramento Kings, who hold the fifth and seventh picks, respectively.
Parker, 29, has played for the Spurs for his entire NBA career. He's coming off of an All-Star year in 2010-2011, one in which he averaged 17.5 points and 6.6 assists. The Spurs have another capable point guard in reserve
George Hill
, who theoretically could take the reins if Parker was traded and play alongside two guard
Manu Ginobili
.
Parker recently signed a contract extension that carries him through the 2014-2015 season.
The lesson from the Memphis series for San Antonio is that the team needs to retool its front line, adding size, length and bulk. At pick No. 5 or pick No. 7, the Spurs could go the super intriguing route by adding Congolese big man Bismack Biyombo, arguably the best defensive prospect in the entire draft. Otherwise, either Enes Kanter or Jonas Valanciunas should be available at No. 5 and could be available at No. 7. Texas forward Tristan Thompson, also an excellent defender, would be another intriguing option at No. 7.
An alternate approach: If the Spurs were simply looking to take a "Moneyball" approach to the point guard position, they could draft Kemba Walker and pay him a fraction of what they were paying Parker to serve as Hill's back-up.
Parker would represent a home run for either the Raptors or the Kings. Both are saddled with questions marks at the point guard position, and Parker would plug in immediately as a quality floor general capable of making life easier for the young prospects he would be surrounded by.
The question hanging over these discussions: Are the Spurs ready to blow this up? If so, moving Parker is a logical first step.