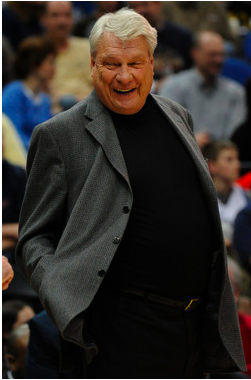 Posted by Royce Young
Right now, Don Nelson has it good.
He's living in Hawaii basking in the glorious sun as the NBA's all-time winningest coach. He has a nice buyout from the
Warriors
and at 70 years old, you'd think he's walking into the perfect retirement.
The problem is with guys like him though, sometimes it's just too hard to say goodbye. Once the game is in you, it's
part of you.
Nelson's son Donnie, who is the current general manager of the Dallas
Mavericks
(yeah, you forgot that, didn't you?) talked to Chris Tomasson of FanHouse and
said that it might not all be over quite yet for his father.
"Never say never,'' Donnie told FanHouse. "I thought when he was the godfather (in Dallas after handing the coaching reins to Avery Johnson in March 2005), I thought that was the perfect existence. But he wanted to coach again. With him, you just never know.''
As everyone knows, at least five coaches will be fired this year. The NBA turns coaches over like pancakes. It's a revolving door and there's some owner or general manager that would love to extend an arm to Nelson. Total speculation here, but say the
Raptors
. Young team that's bound to struggle this year. Lots of athleticism. Maybe the fanbase grumbles. So Bryan Colangelo decides to bring in Nelson and his exciting offense to let
DeMar DeRozan
and
Leandro Barbosa
run wild. I'm not saying it's happening because Nelson hasn't indicated he wants to return, but it's not hard to picture.
Or what if Nelson simply returned to the bench in a mentorship role for another coach, much like he did in Dallas? As much
Heat
as Nelson took for the way things went in Golden State, he still is the NBA's winningest coach ever. That counts for something, I think.
But in my mind, it's over for Nelson. The Warriors kind of went to a ridiculous state of limbo under him and he basically crushed young talents like
Anthony Randolph
and
Brandan Wright
with some of the head games he played with them. I really don't know why anyone would want to go the direction of Nelson, but you know
someone
will. That is, if he decides sipping margaritas on the beach in Hawaii isn't good enough for him.