NBA players will reportedly receive $160 million in escrow money this summer. Posted by Ben Golliver.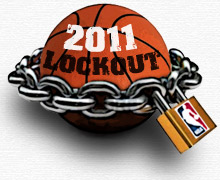 Just because the NBA has locked them out doesn't mean that the league's players can't get paid.
NBA.com reports
that the players are in store for a nice mid-summer cash infusion of $160 million, as funds that are held in escrow will be returned.
The escrow funds -- representing eight percent of each NBA player's salary -- are held back each season to ensure that the players' share of basketball-related income does not exceed the contractually agreed-upon percentage, currently 57 percent. This year, for the first time since the system was introduced in the collective bargaining agreement that came out of the 1998-99 lockout, the cut to players will fall short, sources with the NBA and the National Basketball Players Association confirmed.


That cash could ease or delay the point at which some players begin to feel financial hardship from the lockout. Based on the "average" NBA salary of $5.7 million, the escrow rebate would be worth $456,000. A minimum-salaried player ($473,604) would be due $37,888 while a $16 million superstar could expect $1.28 million coming back.
Ca-ching.
Certainly, this doesn't help the ongoing negotiations. The owners are driving the wholesale changes while the players are essentially cool with the current setup; A transfer of money from owners to players doesn't impact the philosophical stances of either side. It does give the players a bit of breathing room, but 8% of one's salary is not a game-changing amount. It's certainly not enough to carry financially irresponsible players through a canceled season, for example.
But, as NBA.com notes, this could be a bit of a pressure reliever, and it comes at an inopportune time for fans and observers who want to see progress towrds a deal. A resolution won't be reached unless the two sides are exchanging proposals and finding avenues for compromise. Anything, even a cash infusion like this one, that impacts either side's desire to negotiate and compromise pushes back the timeline for a resolution. Guess what? There are no negotiating meetings scheduled between NBA owners and players right now.
Enjoy this pay day, players, you completely earned it. But please find a way to turn this into an opportunity to demonstrate your seriousness and urgency to continue to work towards finding a resolution.