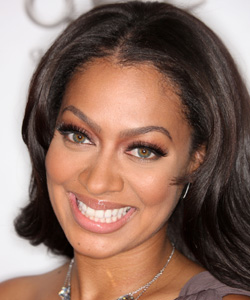 Celebrity wife of Nuggets' star says New York is a possibility, and that MSG has a "different energy."
Posted by Matt Moore
Welcome to sports relevance, La La Vasquez.
Carmelo Anthony
's new wife told the
New York Daily News
that
there is a "possibility" her husband winds up
on the
Knicks
. Hey, no biggie. There's a possibility Carmelo winds up on FC Barcelona or Manchester United. So this doesn't really mean anything. It was what she went on to say that was relevant. From the
NY Daily News
:
There's a lot of talk about the Knicks, I mean, there's a lot of teams out there, he's a great player and I think collectively we just need to think about what makes sense for our family. But I would never say that being in New York is not an option, I'd be lying to you if I said that."

LaLa, who is from Brooklyn, admitted that she's always been a Knicks fan "until I met my husband, then I jumped ship to the Nuggets. 'Melo will tell you, and all the players will tell you no matter where their loyalty is, there aren't many places like Madison Square Garden. They'll all say that, and it's nothing against their teams but there is a different energy in there, and you really can't top that."
OK, then.
So on the surface, it's nothing huge. But you are talking about the new wife of a player constantly discussed in trade talks talking glowingly about New York, where she makes her home, saying it has a "different energy." If we're tracking the winds of change towards and away from 'Melo leaving Denver, this doesn't blow favorably for the Nuggets. One of the widely speculated, and let me say that again,
speculated
reasons why Anthony would want a higher profile market for his talents has been Vasquez and her leanings towards the major entertainment centers, like New York.
The questions continue around what exactly
New York could offer in a trade
, and if they are unable to figure out a package, their odds drop dramatically. With most of the reports saying 'Melo wants an "extend-and-trade" where he signs a long-term extension before the new CBA and then a new team, New York may not get a chance to land him in free agency next summer. The looming CBA restructure and lockout progressively makes that scenario less likely. New York may be the preferred spot for his new bride, but the realities of the situation may prevent the newlyweds from making the Apple their home.
Unless Carmelo steps up his pressure on the team to trade him, that is.