Posted by Matt Moore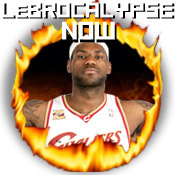 Gary Parrish, Jamey Eisenberg, Pete Pistone, Mike Freeman and KB
give the low-down on what they think will happen
.
A late roundup of predictions as we head into the Big Decision:
Ian Thomsen of SI can't understand why James would
leave home and all that money
.
Apparently the agents and GMs Brian Windhorst
is talking to feel the same
.
Royce Young says that his gut impulse is Cleveland, with Miami a red herring.
As for me?
James has already proven that his decision will likely not be based on where he has the best chance to win a championship, otherwise he would have dragged
Chris Bosh
to Chicago five days ago. It will not be based on where the best chance to market his future is, otherwise the
Nets
would at least be in contention. Right now the decision comes down to his home and family versus his friends. New York is hanging in the background, but they simply don't have enough to pull him through. So now we have the situation where James is weighing Cleveland and the people he's been around his whole life versus two of his good friends and a chance to do something phenomenal with the amount of star power they'll have. It's a difficult one. Maybe not so difficult as to require this much time and a major network special to decide, but a huge decision nonetheless.
At the end of it, I believe he'll return to Cleveland. Going to
Dwyane Wade
's turf? Not his style. Staying home and ruling the roost? That's what he does. That's how he rolls. He'll never have the power base in Miami with Pat Riley and Wade that he'll have in Cleveland. Never have the God-like state of adoration from the fans, who already have their favorite. He'll never be what he in Cleveland to Miami. If New York had managed to stay in the race a bit more, had had a few more things go their way, he would have landed in New York. But faced with this decision, he's going to do what feels right. With so many competing ideas, people most often turn to what they know to be true.
And LeBron knows he loves Ohio, and Ohio loves him.
The King returns to his throne.