What's at stake for Miami Heat forward LeBron James in the Eastern Conference finals? Posted by Ben Golliver.

What's at stake for LeBron James in the Eastern Conference finals? Only the world, Chico, and everything in it.
James played two of the best minutes the NBA has ever seen to eliminate the Boston Celtics, stopping only long enough to kneel on the court, to take a moment to appreciate all that he had accomplished in overcoming his bitter rivals. The only problem, of course, is that he is still just halfway to a title. Derrick Rose and the Chicago Bulls are capable of evaporating everything James has earned in the past 48 hours – confidence, peace of mind, a feeling of accomplishment, validation for his decision to leave Cleveland, a rush of popularity – by defeating the Heat. If James doesn't emerge from this summer with a ring, he'll be back at square one, hearing the same old boos and answering the same old questions he dealt with all season long.
This all-or-nothing conundrum probably isn't fair to James but he should be used to it by now. He has demanded attention since he was in high school. He has ascended to the pinnacle of his sport, the undisputed best all-around player in the NBA. He's even made it to the Finals before. None of that has mattered to his critics. And, we came to find out last summer, to him either.
Winning his first championship -- with others to follow -- was his stated goal. He's reiterated multiple times over the past week that the Celtics helped inspire his decision to team up with Dwyane Wade and Chris Bosh. He couldn't beat Boston alone, he admitted. Securing the best shot to climb the mountain won out over hometown loyalty, the biggest paycheck and any other factors. That's the narrative he's crafted, that's the script he's reading from.
The Heat envision themselves as the future of the NBA, the axis that everyone else spins around, the epicenter of both cool and success, a dynasty in the making. In James' mind, he's the protagonist always.
A loss to the Bulls, then, would amount to an identity crisis. Being beaten by a team with just one All-Star? A team that had won one playoff series in the past 12 seasons combined? It would be not only an embarrassment but also worrisome. Chicago's core is set in place for the foreseeable future. Their coach is one of the most widely respected in the game. They're deep, disciplined and hard-working. They've got big city cachet and an instant likeability among both casual fans and basketball purists. The Heat would be set back, back to being the villains, back to being the foils.
Wade already has a ring to console himself. Bosh has admitted to being in a bit over his head already during the playoffs, so he would be able to rationalize away such a loss. Coach Erik Spoelstra has demonstrated an ability to maintain a long-term perspective through adversity, so he'd be alright in the event of a loss too. He would beat himself up but then realize that there are plenty more opportunities ahead. Pat Riley has so much hardware and such a great tan nothing really matters at this point of his career, at least not comparatively.
But James? James would be out of excuses for another year. Left to walk off the court in defeat, his team's roster-building ability in the hands of the NBA's new Collective Bargaining Agreement, his reputation as a player that can't get it done extended for at least another 12 months. Self-doubt would be back in a big way, the team's top-heavy approach would be questioned, he would have to hit the recruiting trail hard, hoping that the league's elder statesmen could be convinced to sign up at the minimum salary to help him win his ring. Would James have the stomach for all that? The patience? The composure?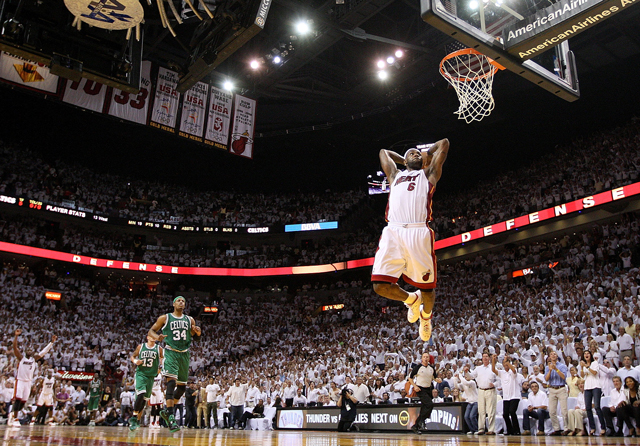 He's been the best player in this year's playoffs, averaging 26.1 points, 9.4 rebounds, 4.9 assists, 1.3 blocks and 1.3 steals while playing more than 43 minutes a night. He's been clutch. He's been steady. He's even been newly flexible, allowing Wade to carry the load when he has it going. He's shown an admirable commitment to the boards. His level of focus this year is as laser-like as we've ever seen, his intensity the exact opposite of what it was a year ago.
To imagine all of those things wiped away by four losses, just as the vast majority of his previous playoff heroics have been forgotten because he hasn't secured a title, is a difficult proposition so soon after the triumph over Boston. But that's what happens if the Bulls win. The pendulum swings that hard. It's happened before, and it's inevitable.
This might not be his best shot and it certainly won't be his last shot. But, given the remaining teams left in the field, this is a very, very, very good shot. Once Game 1 tips, he, more than anyone else, will be expected to deliver.

And that's why the Eastern Conference finals – and the NBA Finals too -- mean more to James than anyone else. His career, reputation, personality and trajectory are subject to a total redefinition and reevaluation with eight more wins. That's why James has the most at stake. Nobody else is a close second.