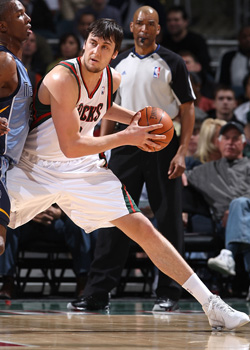 Bucks center cleared to play in preseason games.
Posted by Matt Moore
Andrew Bogut
has been cleared to play in preseason games
, which is pretty neat for them. Bogut's been all over the place in terms of predicting how he's coming along, and he's pretty set to avoid long-term injury, so this may not be set. But having Bogut back will help a ton in terms of Skiles trying to set rotations considering the number of changes the Bucks brought in.
It'll be interesting to see how the injury restricts Bogut. Using
Synergy Sports
, we see that Bogut only shot 43% in the post last year, and only drew fouls 5% of the time. He was much better in the pick and roll (shooting 70%) and in offensive rebounding situations (57%). But pick and roll requires more coordination with the mitts, and offensive rebounds are of course more physical. So the question will be how Bogut can react to the delicate nature of his wrist while he recovers from one of the grossest falls of all time.
Meanwhile, he does need to get floor time, because
Brandon Jennings
is still very much a work in progress. Working on Jennings' shot selection will be greatly improved if he learns to go to the big fella, and often. There are some new egos on the squad with
Corey Maggette
and
Drew Gooden
, so Bogut's presence is needed to establish the alpha dogs on the team. So his being on board from the get go has to boost the Bucks' chances of not only holding onto their playoff spot but improving on it.