Denver Nuggets All-Star forward Carmelo Anthony says that a trade involving the Nuggets, the New Jersey Nets and Detroit Pistons isn't happening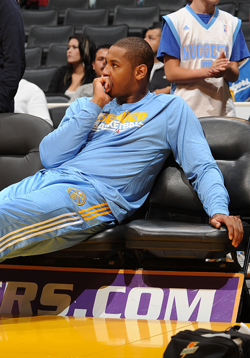 quite yet. Posted by Ben Golliver.
Ken Berger of CBSSports.com
outlined Monday morning
that the Denver Nuggets, New Jersey Nets and the Detroit Pistons made progress on a three-team trade that would send Nuggets All-Star forward Carmelo Anthony to the Nets in a complicated, multi-player deal. Berger noted that there "were miles to go -- not inches" and
that progress hinged
on whether Anthony would agree to signing an extension with the Nets.
As I noted Sunday
, Anthony has played his cards fairly close to his vest, and there has yet to solid word that he would sign off on a move to the New Jersey Nets, who are downright awful and would be mostly gutted of their talent base in the trade scenario outlined over the weekend.
NBA Fanhouse
reported on Twitter
from Nuggets practice Monday that Anthony plans to meet with Nuggets executives at an undetermined time in the near future and that his future in Denver "is in the air." Anthony also noted, "until something happens, I'm a Denver Nugget."
Asked directly if he would sign an extension with the New Jersey Nets, Anthony responded, "I really don't know. I'm waiting to see Masai and Josh... They haven't been here." Masai and Josh are Masai Ujiri and Josh Kroenke, Denver's GM and President, respectively. Anthony also added that there was "no desperation" present in the scenario, leading many to conclude a trade isn't imminent.
Meanwhile, multiple media outlets reported that Nuggets point guard
Chauncey Billups
and Nets forward
Troy Murphy
, who were each involved in the three-team trade scenario, both did not attend practice on Monday. However, Billups was said to
have a "headache"
and Murphy was
said to be "sick."
Initially, their absences triggered speculation that a trade was underway, but that line of reasoning has quieted down Monday afternoon.
In other words, our long, national nightmare continues.
For more on the Carmelo Anthony trade talks, check out this week's edition of
CBSSports.com's NBA podcast
. You can also watch Berger breaking down the Anthony situation with CBSSports.com's Adam Aizer and Greg Urbano below.