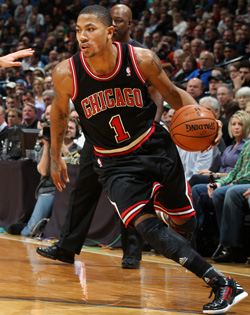 By Matt Moore
From ESPN.com:
Chicago Bulls guard Derrick Rose was still in a walking boot at one point Friday but told ESPN The Magazine's Ric Bucher that he would be playing in that night's game against the Boston Celtics as he recovers from a sprained toe.

"He'll warm up tonight and see if he can go," Bulls coach Tom Thibodeau said Friday morning. "He's feeling a lot better today."

Rose injured his toe in Tuesday's win over the Minnesota Timberwolves. John Lucas III started in Rose's place in a victory over the Washington Wizards on Wednesday and had 25 points in 48 minutes of play.

"Most guys in the league are hurting in some way, Thibodeau said. "But we're not going to risk further injury to him. If he's at risk we certainly wouldn't play him. But Derrick has always responded well to treatment. He was feeling better [Thursday], and he's feeling a lot better today."
via
Chicago Bulls' Derrick Rose (toe) says he'll play vs. Boston Celtics - ESPN Chicago
.
Rose should take his time returning. The Bulls managed to win without him, and considering the toll Rose took in the playoffs last season, the Bulls need him as healthy as humanly possible going into the playoffs. Rose's ankle injury against Indiana in the first round limited his effectiveness, and the wear and tear caught up with him when he was defended by
LeBron James
, particularly because being guarded by James is like being guarded by a centaur with eight arms.
Furthermore, the Bulls having to score without Rose could have the same effect as tossing a baby in the water to learn how to swim. No, it's not necessarily best for the child, but the theory is that the Bulls will possibly learn to function on offense if they can't use Rose as a crutch. They certainly need to learn to produce points that don't involve him getting beaten up every drive he takes.
But this is Rose. He wants to play, he will play, and it's likely he'll be back in action soon.