How did some of the NBA's top prospects do the first Friday of the NCAA tournament? Posted by Ben Golliver.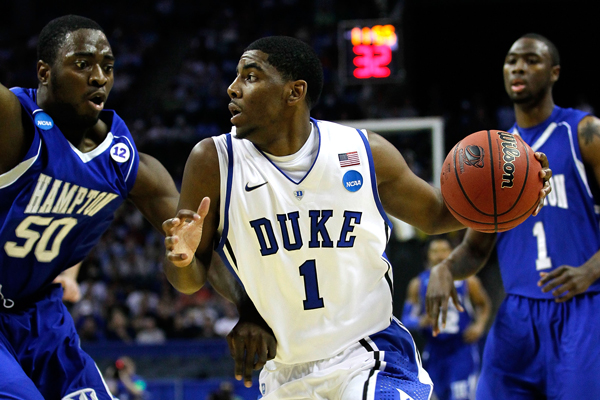 Kyrie Irving, Duke: 14 points, four rebounds, one assist, two steals, one block
The projected No. 1 pick of the 2011 NBA Draft delighted college and pro basketball fans alike with news that he would make his return to the court during the first round of the NCAA tournament. As Irving hadn't touched the court since December due to a toe injury, the pre-game questions were more about how he would fit in chemistry-wise rather than how polished his play would be after all the time off.
On both counts Irving's Friday performance was a smashing success, although his fill-up-the-boxscore effort came against much weaker competition. As Irving has nowhere to go but down when it comes to his draft stock, he didn't really show scouts anything he hasn't shown before. However, he did look like his normal self and that's enough for just about everyone. More dimes in the next round will have everyone breathing totally easy once again. For more on Irving, check out
this column
for CBSSports.com by Eric Angevine.
Harrison Barnes, UNC: 24 points, 16 rebounds, three assists, two steals
The rout was on for North Carolina on day one as they rolled up 102 points en route to hammering Long Island University. Barnes' stat line was impressive but his efficiency wasn't exactly consistent, as he shot 7-9 on two-point field goals while bombing away (errantly) to the tun of 2-10 from downtown. Still, his highlight reel smoothness with the ball in his hands was evident and he compensated for his quick trigger by hitting the glass hard.
Something to keep an eye on as the tournament progresses: turnovers. Barnes finished with a team-high four on Friday, understandable given it was his first taste of the tournament stage as a freshman. Possessions are a premium at the next level, though, especially for top-flight wing scorers that need touches in volume.
Derrick Williams, Arizona: 22 points, 10 rebounds, one block
It's safe to say that Williams, a versatile forward, won the highlight of the day as he helped secure a dramatic victory in a back-and-forth game with Memphis by blocking a last-second shot attempt. It was his only block of the night, but plays like that have a way of enduring in the memory, especially if Arizona can mount a bit of a run through their region.
Williams scored 22 points on just 11 shots, hitting all nine of his free throws and exerting his physical presence against a smaller Memphis team. He showed the ability to finish while taking contact and also stepped out to confidently knock down the only three-pointer that he attempted. He displayed the full offensive arsenal.
For more on Williams,
check out CBSSports.com's Eye on College Basketball Blog
.
Tristan Thompson, Texas: 17 points, 10 rebounds, seven blocks, one assist
Thompson will almost certainly be a late riser up the NBA mock draft boards this spring as his solid frame, elite timing and aggressive attitude will translate excellently to the pro game. His seven blocks were certainly not by accident, as his long arms and quick springs let him contest and alter shots many other players would simply watch go over their heads.
Thompson essentially traded baskets and rebounds with Oakland senior Keith Benson, a player to whom he gives up three inches of height. Thompson's length and instincts more than make up for his average height for a power forward (6'8") and his ability to get low to establish rebounding position is essential at the next level. His buzz will only grow stronger.