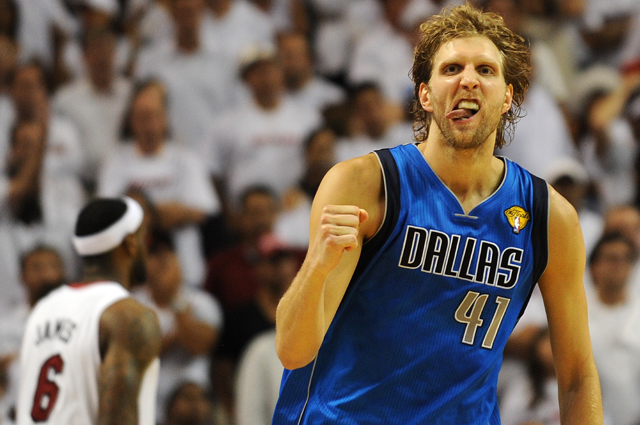 Posted by Matt Moore
Since it may be some time before we see the NBA again as everyone heads for the lockout shelter, it's important that we take note of this remarkable last season while it's still fresh in our minds. We need to preserve what we saw, and make notes of it so we don't forget when the optimism of a new season finally rolls around, be it in October or... you know, later.
So with that in mind, here are 13 things we learned from the 2010-2011 NBA Season. Why 13? Because we're trying to jinx a lockout, that's why.
The Heat will dictate the conversation, one way or another.
"Why does the media over-cover the Heat so much?" "I wouldn't hate the Heat if the media didn't cover them all the time." "Can we stop talking about the Heat?" These are a few of the kinds of comments we, and every other major media outlet dealt with this season regarding the Heat. As if we all got together in a big room and decided to torture fans of the NBA by devoting all this time and energy to covering the Heat. The reality is that the Heat provided huge traffic bumps whenever they were mentioned. The interest was there. Largely due to people's phenomenal interest in their failures. America rooted against the Heat this season, and they relished every moment Miami fell on their face. From the early season stagger out of the gates, to the mid-season lull that left tears on their faces, to their defeat on their home floor of the NBA Finals, fans went crazy wanting to rub it in. With as good as the Heat are, and they are very good, they'll be the starting point of every league-wide conversation going forward. They'll dictate what we say and how we compare teams and the question will be asked if a team can matchup with the Triad. We've just gotten through with Year One of the Miami Triad. Hope no one expects the talk to just go away now that they've fallen two games short of the goal.
You CAN win with a superstar-heavy, otherwise-limited team.
The Heat not winning the title was seen as some sort of victory, proving that superstar-teams are a flawed model, that you have to have a complete team to win a title. Tell that to the
Celtics
and
Bulls
, two of the best teams in the league who fell under the Heat's boot in the playoffs. Miami was two games away from winning the title, in a series that came down to a last minute or last second shot in four of the six games. The gap between the Heat and the
Mavericks
was not an ocean, it was a stream. That the Heat could not get across it is not an indication that the model is flawed, it's simply an indication that the Mavericks put together one heck of a run with one heck of a team.
But the model itself worked. If you consider that the Heat are highly likely to improve in the future, both in their internal mechanics and in improving their core, the Heat weren't a complete failure. A failure? Absolutely. No way should it have been this hard for them, no way should they have pranced like they did in preseason, no way should the roster have relied on pieces they knew were so out-dated. But they were successful, just not as successful as you would think they would be, or that they should be.
Meanwhile, the
Knicks
put together their own superstar team, and got slightly worse than when they had a more complete team. But the Knicks still made the playoffs and have positioned themselves to be players in the title hunt in the future.
Carmelo Anthony
and
Amar'e Stoudemire
are a pretty tremendous one-two punch, and they're still going to have a good shot at a third free agent in the summer of 2012. Don't be surprised to see other teams follow this model that the Heat supposedly set which was actually set by L.A. and Boston three years earlier.
Speaking of Carmelo Anthony...
A star player really can force their way not only out of a situation they don't want, but into whatever team they do want.
The Carmelo Anthony saga was absurd. It was drawn out over the course of seven excruciating months, and during that time the same rumors were floated over and over again. The same information kept coming, particularly from our own Ken Berger of CBSSports.com that New York was where Anthony wanted to be, that's the only place he'd sign the extensoin for, that would be where he was traded. And yet the
Nets
made every attempt to try and spin the story for themselves, hoping momentum would push Anthony to consider them. It didn't, and he landed in New York.
But consider for a moment what Anthony accomplished. Under contract for a team, the team that drafted him, who had built their franchise around him, had promised him everything, Anthony not only managed to force a trade, but a trade to the one and only team he wanted to play for. If his wife had decided she loved barbecue, the
Grizzlies
would have him right now. If she wanted shellfish, the
Wizards
would have his poster on their arena. Anthony demonstrated an unprecedented amount of power for a player, overriding what was best for the club and managing to get the exact situation he wanted... while under contract.
It's a frightening situation that has to have small market owners looking for a way to prevent it happening to them as this lockout goes on.
And speaking of the Knicks...
You can still hoodwink the Knicks, you just have to get Dolan involved.
Part of you has to wonder if Donnie Walsh's step down from the office of the President of Basketball Operations was nothing more than one giant facepalm.
The Knicks got their man all right. They got Carmelo Anthony who decided he wanted to play in New York and New York only. But instead of capitalizing on what should have been the ultimate position of strength, the Knicks once again managed to bungle the situation, and in doing so, cost themselves a world of assets they needed to build around Anthony.
The
Nuggets
were going to break. That much was clear. After an All-Star Saturday night meeting between Anthony and Mikhail Prokhorov failed to convince Melo to hitch his wagon to the Brooklyn train, the Nuggets really had no other option. But instead of keeping Donnie Walsh's poker face as the expression of the organization, squeezing every bit of advantage out of a situation they couldn't really lose as long as they remained cool, James Dolan brought Chef Isiah Thomas into the kitchen, turned the burners on high, and torched everything.
The result is the Nuggets going from a team that looked like it would get minimal assets out of a deal with the Knicks, to a team that fleeced them up and down. Not just
Raymond Felton
, Raymond Felton and Danilo Galinari. Not just Felton and Galinari, but
Wilson Chandler
, and draft picks. The only thing Dolan didn't send the Nuggets for a player who had made it clear he only wanted to play for Dolan in the first place and was a free agent in less than six months was Walsh's heart. Mostly because he'd already crushed it.
We thought the days of the Knicks being the team you looked to try and take advantage of were over. But James Dolan proved that you can take the front office out of the crazy, but you can't take the crazy out the ownership.
Blake Griffin is the next "You Gotta See This Guy" Guy.
We expected good things out of Blake Griffin (okay, most people did; I had him pegged for third in the ROY race behind Wall and Cousins, whoops). But no one expected this.
And that was just the beginning. Griffin was a revelation in his rookie season. Yes, the dunks were impressive. Really impressive. And bountiful. But beyond that, Griffin showed everything you want to see out of a player you would expect to become a superstar. An All-Star in his rookie season, Griffin showed tenacity, smart rebounding, great conditioning, a versatile, if still unpolished offensive game, and a craftiness to put that crazy athleticism to good use. It got so bad teams started giving him flagrant fouls to get him off the rim. Nothing worked. And Griffin has managed, almost by himself, to make the
Clippers
a must-watch team and a squad on the rise. He turned the heads of every player in the league and has everyone expecting the Clippers, yes, the Clippers, to be a playoff team within a few years.
It was a remarkable ride, and it was just year one.
Dirk Nowitzki is worthy of "legend" status.
This is what a ring can do. From near-legend to legend. Nowitzki's season had pretty much convinced everyone that due to staying power and consistency, he deserved to be mentioned with some of the greatest offensive players of all time. His postseason run proved he was worthy of "legend" status outright. The comparisons to Larry Bird were made (even if slightly absurd given Bird's rebounding and passing). The comebacks, the last second game winners, the impossible fadeaways, it was a remarkable torrential downpour of tenacity, skill, and determination. Nowitzki took himself off Barkley's list and into the halls of champions. If there was an overriding theme in the Mavericks' locker room, mostly made of players who had been questioned their entire careers, it was this: "No one can take this away from us." They had been validated, no one more so than Nowitzki, the Big German Legend.
Derrick Rose is the next superstar with the polarizing game.
The MVP won in convincing fashion, but his postseason struggles (and successes) will continue the theme started in the regular season. There is a debate as to just how great Rose is. If you watch him, it's hard to see anything but a bonafide "best in the game" caliber player. The twisting layups, the pull-up jumpers, the incredible speed, it's all there. Rose had two incredible performances, one against the
Pacers
in the first round, and an absolutely blistering game against the
Hawks
in the semifinals. His regular season was marked by one important number, 62, the most wins in the NBA as he lead the Bulls to the top seed in the East.
But Rose touched off a heated debate between pundits and fans who consider advanced metrics overrated if they don't reward a player that shows what Rose showed in the regular season, and proponents of said metrics who questioned just what Rose's impact was beyond the eyeball effect. It wasn't a matter of points or effort, but efficiency and effectiveness. Rose's adjusted plus/minus and efficiency metrics showed a player anywhere from a marginal liability to a slightly above-average gunner. A key question raised was how Rose was better than
Russell Westbrook
in terms of his on-court effectiveness. The playoffs brought this into stark relief as Westbrook was buried for taking too many shots with a low percentage while
Kevin Durant
was on his team (also missing shots most of the time in the WCF), and Rose was excused for some of the mostly truly dreadful performances by an MVP in the Conference Finals.
Rose is young, and will improve. He is a remarkable talent, and in my opinion, very worthy of the MVP. But if his efficiency doesn't improve and the highlights don't fade, Rose will continue his ascension to the most polarizing player in the league in terms of his game. LeBron's character and willpower is questioned, but the strongest comparison to Rose in terms of his controversial effectiveness is really
Kobe Bryant
.
When the dam is burst, evacuate the town, bring in the bulldozers, and start over. Don't bring in mops.
The
Cavaliers
broke the record for consecutive losses in NBA history this season. That's going to hang on those players' career for all time. They will always have this season on their permanent records. But what's worse is that this monumental failure wasn't the result of cleaning the decks. The Cavaliers were actually trying to win.
The Cavs didn't try and start completely over once
LeBron James
left. Despite brining in new management and a new coach, and having a roster of extremely questionable talent, the Cavs tried to compete. The disaster that unfolded would have been more understandable if it had been D-Leaguers and undrafted rookies trying to make a future roster. Instead, the Cavaliers were a team of veterans, mostly injured, but some just inexperienced, thrown together facing what amounted to death from heartbreak from the team, its fans, and the organization. The arena even seemed sad.
If the Cavaliers taught us one thing this season it's that when things go as badly as they did for the Cavaliers, it's not best to try and compete. You blow it up. The
Raptors
embraced this to a degree. They gave out some bigger contracts in the offseason, but when things went badly, they did try and bring in young talent. Don't be surprised if Bargnani were to wind up elsewhere, provided anyone would want to take a flyer on him and his massive contract. More and more the younger players were given time. In Denver, the move was made preemptively. The Nuggets, and then soon after the
Jazz
both decided they weren't going to wait around for their superstar to stab them in the heart. They moved them for the most flexibility they could wrangle, set themselves up well for the future, and went back to the drawing board. It's one thing to have a losing team. It's another to pay quite a bit of money for a losing team.
As the
Magic
face the
Dwight Howard
situation, Otis Smith should pay attention. Sure, do everything you can to convince Howard to stay, because your window is shut for the next five years and your job is probably liquid if he goes. But he minute it becomes clear it's over, that you've lost the franchise center, do what you can to set the team up for the future. It's the only way to make sure you don't wind up with the black mark this season's Cavs carry with them, emotional victory over Miami or not.
A reminder: everyone is human, and they are vulnerable.
Shaq played a handful of games, tried to come back in the playoffs, got injured again, and that was it for a career. Shaquille O'Neal played his last season in the NBA, after a decade and a half as the Most Dominant center in the league. Jerry Sloan was thought invulnerable. There was nothing that could remove him from Utah. But instead, unrest from his star player and a young team that couldn't gel did him in. Sloan was a legend, a staple of the league, an unshakeable part of the foundation. And now he's gone.
So we remember that everyone will have their day, that eventually Kobe Bryant will have to hang it up, as will LeBron James and eventually Derrick Rose. But we also saw what conditioning can do, as
Jason Kidd
won a title on a team full of aging veterans. And even age doesn't protect you, as
Greg Oden
suffered yet another knee injury which ended his season. You can never tell when the ride is over, so players as competitors, and we as the fans that watch them, should appreciate every moment they're on the floor.
Chris Paul is still the best point guard in the league, when healthy.
Derrick Rose may be the league's best player, but his position is as much a hybrid as LeBron James'. For the best point guard in basketball, we were assured of what we were pretty confident of to begin with: Chris Paul is the best at his position in the league, when healthy.
The
Hornets
blistered out of the gates, and it was Paul showing that he could do all the things he could before injuries derailed his season in 2010. The super-vision, the flawless technique, the expert shooting, it was all back.
Then it left for a while. Paul struggled in the middle of the season with his aggressiveness, too often deferring in key situations. The Hornets would go on long winning streaks and long losing streaks, stabilizing just long enough to ensure their playoff berth.
But in the first round, Paul showed that he had been seemingly been saving himself. He torched the
Lakers
end to end, showing that they were vulnerable and foreshadowing the Lakers' second-round flameout. Paul is still the best at his position, and whatever team he winds up on after 2012 will have a franchise player for the rest of his career, most likely.
New Orleans is in trouble.
They made the playoffs. They met the attendance mark. They pacified Chris Paul. And still, the future of the New Orleans Hornets is very much in the air as we enter the lockout. The Hornets' prospective buyer, Gary Chouest, backed out, and George Shinn had all he could stand. So the league was forced to buy the Hornets. The NBA and its 29 other owners are in possession of one its franchises.
The league has promised to make every effort to keep the team in New Orleans, working with local leadership to try and find a stable ownership group in a region that can't seem to catch a break. But the longer the situation goes, the more it becomes untenable, and the more anxious owners will be to capitalize on their investment by selling to the highest bidder... which will likely come from outside the state of Louisiana.
Even after a season that showed so much promise on the floor, these are dark times for the Hornets.
No one trusts the Maloofs.
NBA ownership never goes against its own. That's a pretty solid unwritten rule. And yet when former NBA player and Sacramento Mayor Kevin Johnson made the case for Sactown to keep the
Kings
, with plans in place to make them profitable, the league made it clear that if forced to, they would vote against the desires of the Maloof brothers. The team will stay in Sacramento another season.
So now you have fans that don't trust the Maloofs not to screw them out of their team. You have ownership that doesn't trust their decision making in deciding where to relocate and how. You have the league trying to deal with a weak ownership group and another publicity nightmare.
So no, it hasn't been a great couple of months for the owners of the Kings. It's unclear how this story ends, whether the Kings will be in Sacramento or Anaheim in 2012. But we learned this season that the Board of Governors and its ownership representatives do have their limits in terms of what they will go along with.
(Insert Donald Sterling joke here.)
This league can still surprise us.
The Lakers and Celtics were going to meet in the Finals. That looked certain. Then it looked like the Lakers and the Bulls. But it was Miami and Dallas. Surely the Heat would win, cementing their destiny, manifest style. But no, Dirk Nowitzki and Mark Cuban raised the trophy.
In a season that faced so much uncertainty about the future of the league as it became more and more apparent that neither side was willing to make the significant steps of compromise to avoid a lockout, we learned that nothing in the 2011 season was certain either. The
Thunder
weren't ready? They traded for
Kendrick Perkins
, became a contender. The Thunder were ready? A Mavericks assault on offense showed they still have some things to learn on defense. The Bulls are better, not great? They earned the top seed with a league-best 62 wins. The Bulls are worthy of being favorites? A five-game flameout against the Heat. It goes on and on.
The Lakers will be in the Finals as long as this core together? Buried under a Mavs avalanche of 3-pointers. The Celtics are still the favorites? Crushed beneath the Heat's athleticism. The Heat can't be toppled because of their talent? Dallas showed beat the team that won a title with a slogan of "15 strong" exactly what that means.
One player can't do that much damage to a franchise? Look at the Cavs. One player can't really change the fate of a franchise? Check out Blake Griffin. The
Bucks
and Kings will be must-watch League Pass teams? Only if you like
DeMarcus Cousins
techs and missed jumpers. The
Timberwolves
are hopeless? Hello,
Kevin Love
. The Timberwolves have to get better at some point? Hello, David Kahn.
The Grizzlies are a miserable failure of a franchise and professional basketball will never work there? Seven playoff wins, the first in franchise history, and an upset over the top-seeded four-time champion
Spurs
(kind-of).
Yao Ming
can't get hurt again? Oh, sad. Greg Oden can't get hurt again? Sadder. You can't make the second round and push the top seed to six games and have a bad season? Ask Hawks fans. Superstars can't just decide where they play? Carmelo says "Hi" from New York.
The
Suns
will never trade
Steve Nash
? Okay, we're still waiting on that one.
But the fact remains, this was an absolutely stunning season, from start to finish. It was full of drama, last-second trades, intrigue, big-time personalities, new rivalries begun, old rivalries renewed, dramatic comebacks, and unlikely champion, and most of all, great, great, great basketball.
But if there's one thing we've learned from the season that was more than any other?
There's absolutely no reason to throw away all the good of this season for a lockout.