Posted by Royce Young
It's not the team the United States expected to play in the semifinals. With Argentina rolling behind
Luis Scola
, there was almost no doubt that a showdown between the 2004 gold medal winners and the U.S. was coming. You could feel the buildup, even on Thursday morning, before Argentina played their quarterfinal game.
Except there was a problem. Argentina still had to play Lithuania. And by all appearances, they totally forgot about that.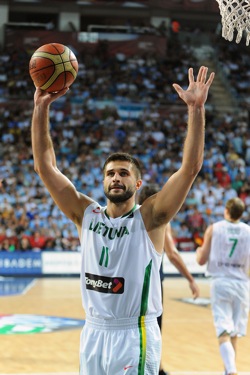 Lithuania didn't slip past Argentina a team that was 6-0 going into that game. They didn't squeak by on a couple questionable calls or some uncharacteristic hot shooting. Lithuania
throttled
the Argentinians. Like worked them over.
And while it might not be the game most expected in the semifinals of the 2010 World Championships, Lithuania is not someone to look past. If the U.S. didn't learn that lesson from what happened Thursday to Argentina, then Lithuania may do some more sneaking up.
But the U.S. knows this opponent. A little over two weeks ago in a friendly, Team USA defeated Lithuania 77-61 in New York. However, Lithuania held a 15-7 lead after one quarter and after 30 minutes of play, the U.S. only held a 9-point lead. But even since then, this is a Lithuania team that has really hit its stride. So while Team USA is familiar with its next opponent, there is still some studying to do.
How did Lithuania get here?
In group play, Lithuania cruised to a 5-0 record. Well, I shouldn't say cruised. More like scrapped. Their margin of victory in Group D was, 10 points a game. But that's inflated by 18, 13 and 14-point wins over Lebanon, New Zealand and France. Against Canada and Spain, Lithuania won by a total of five combined points.
In the tournament, they defeated China 78-67 in the round of 16 and then Argentina by 19, dropping 104 points on the former gold medal winners.
Who are their best players?
Lithuania is a pretty proud basketball country with a good history of winning and talented players. And one thing about them, is that they're missing some of their finest players. Sarunas Jasikevicius, Darius Songaila and projected lottery pick Donatas Motiejunas are all sitting out.
In Turkey, Lithuania has relied heavily on former Denver Nugget and new Toronto Raptor
Linas Kleiza
. Currently, Kleiza is averaging 19.1 points per game, good for sixth place at the Worlds. Against Argentina, Kleiza dropped 17 on 7-14 shooting and in the other big games (China, Canada and Spain), Kleiza averaged 21.6 ppg.
Besides him, Lithuania has three players averaging over nine points a game in forwards Jonas Maciulis and Martynas Pocius and guard Mantas Kalnietis.
What did we learn from the first meeting?
Not a whole lot. It was the first friendly for the U.S. against someone other than themselves and everyone looked fairly rusty. Durant went just 4-14 from the floor for 15 points. The two teams turned it over a combined 40 times and both shot right at 40 percent. Neither team opened up the playbook a ton and neither showed a whole lot.
It was clear from that game though that the U.S. held a pretty huge advantage in transition while Lithuania tried to run crisp in halfcourt sets. Lithuania wants to slow down. The U.S. wants to speed up.
How do they match up with the USA?
Not great. Well, not great for their sakes. Team USA is supremely more athletic. Kleiza will likely get the call against Durant, but even still, that's not a good matchup for Lithuania. Their guards will have a great deal of trouble running with
Derrick Rose
,
Russell Westbrook
and
Eric Gordon
and someone like
Chauncey Billups
might see a million open shots.
Lithuania isn't afraid to zone and that may be what they do against the U.S. for most of the day. The matchups just don't play to their favor in really any way. They do hold a size advantage with nobody under 6'3 plus a guy that's 7'3, but that size differential hasn't affected the U.S. much to this point.
They can score and shoot though. They are sixth in the tournament in scoring per game at 81.9. They are also in the top 10 in rebounding. (The U.S. is first in both categories.) Against Argentina they shot 53 percent from the floor, 12-24 from 3 and had seven players score 12 or more points. So they're well-rounded and can put the ball in the basket.
Can Lithuania win?
Yes. Absolutely. In any tournament, when you're playing a hot team, it's reason for concern. Momentum and confidence is a strange thing in competition.
Other than the Brazil game, this is the first one Americans should actually fear. Russia put up a tough fight but they never had the horses to really make a push to win. While Lithuania doesn't have the matchups, they do have a reliable scorer than can carry them in Kleiza. If Russia had a player like that, they could've posed a much tougher task for the States.
It will likely be a lower scoring affair as Lithuania will try and slow the game down. I imagine it will be a couple possession game in the fourth, though the U.S. should handle business. But Lithuania is hot and they're hitting shots. If they get the 3 rolling like they did against Argentina and
Kevin Durant
isn't there to bail out Team USA again, it could be a long day for the red, white and blue.