Wade's doing work on the left, Derek Fisher is a hero, and Vinny Del Negro's something else, all in today's Game Changer.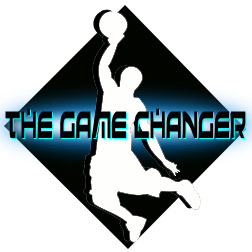 Posted by Matt Moore


Each game is made up of elements which help formulate the outcome. Monday through Friday, we'll bring you the elements from the night before's games in our own specialized version of the game recaps. It's not everything that happened, but it's an insight into what lead to the results you'll see in the box scores. This is the Game Changer.
WADE'S GONE LEFT
While Miami's r
eserves were finally earning their keep
last night,
Dwyane Wade
was taking care of business, as usual. After some early season slump shooting, Wade has started to catch fire. The moves that you associate with Wade are coming back, like the pump fake drifting baseline J he drained last night for an and-one late in the game. Lost in all the
LeBron James
hoopa (and hatred) is the fact that Dwyane Wade really is an elite player in this league, and his 28 points on 14 shots last night was an excellent example. Twice in the second half, the
Jazz
backed off of Wade trying to contain his teammates and keep him in front of them. Wade calmly nailed a step-in three in the fourth quarter to put the game out of Utah's reach, killing the crowd.
The interesting thing about it? Wade was a little left-heavy last night. Here, take a look at his shot chart from our Game Tracker: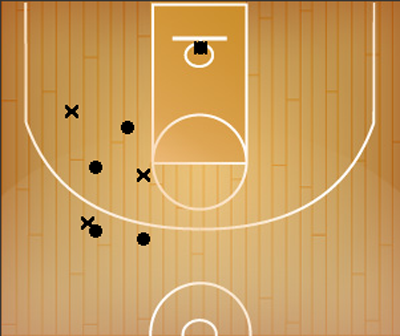 That's quite a bit of left-side shooting, there Wade. The Jazz defense constantly shaded right, and the result was this. It wasn't just Wade, though. Of LeBron James' 20 field goals, only 3 shots came from the right side outside of the paint.
HERO OF THE DAY: DEREK FISHER
The
Lakers
couldn't be bothered to put any effort in for most of this game, and the
Clippers
played their hearts out, leading by seven in the fourth quarter. But, sadly, they discovered a disheartening fact. They're the Clippers.
Brutal.
GO-GO-GADGET LINE OF THE NIGHT
Andrea Bargnani
: 41 points, 7 rebounds, 6 assists


Runner-Up:

Zach Randolph:
34 points, 17 rebounds
ROSE CONTINUES RISE
Derrick Rose
's ability to take over games continues, as in a game that should not have been as close as it was, Rose finished the
Cavaliers
in a snow storm. On a crucial possession he slipped by his defender, got to the middle paint (which is his sweet spot), and hit an up-and-under dandy and-one to ice it for Chicago. Cleveland's final possessions were terribly managed by Byron Scott.
FINAL THOUGHTS
Speaking of terrible game management, how about Vinny Del Negro calling timeout late when his Clippers have the lead and momentum with an opportunity to ice the game against a completely winded Lakers team? The Lakers were primarily losing because of effort, but the fact that they were so short-handed on a back-to-back had a lot to do with it as well. They were completely gassed, but Vinny Del Negro let them off the hook with a timeout. So bad.
Lamar Odom
wanted nothing to do with
Blake Griffin
by the end of last night's game. Griffin completely overwhelmed Odom on several possessions in the fourth quarter. Credit Phil Jackson with switching to
Ron Artest
late which caused two turnovers to help the Lakers close it out.
The announced attendance last night was just over 10,000 in New Orleans, well short of the 14,000 they need to average to avoid the opt-out free of penalty with the arena in case new ownership decides to move on. Not a good sign.