Posted by Royce Young
George Karl hinted that
Carmelo Anthony
should sign the three-year extension that's been on the table for months. But yesterday's face-to-face meeting between the two wasn't about that.
"He wanted to go there. He really wanted to go there,"
Anthony told The Denver Post.
"But it was all good. I'm playing now. I'm out here, I'm working hard ... He didn't try to work me over. He just wanted me to really focus in and told me that he is looking for my leadership skills and what I've been doing so far here in training camp."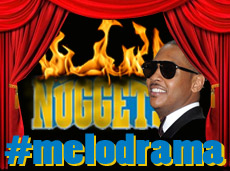 Karl focused mainly on the season at hand and for good reason - Anthony is actually under contract this year in Denver. In fact, the same goes for Karl.

That's why yesterday's meeting between the two was so quietly interesting. What would Karl tell Anthony? Would he try and talk him into staying? Or was he just carrying out what he was asked by the front office.

Karl might not even be in Denver next season. Besides the fact this is a contract year for Karl, he's also seen a ton of turnover in the past few months, watching close friends walk out the door. The Nuggets are pretty much completely under new leadership, except for Karl who is one of the few left over from the old regime. Plus, he's had to battle cancer twice in the past few years.

So the fact that Karl reportedly focused on talking about the season at hand is no surprise. Because 2011-12 doesn't really matter for either at this moment. Karl's focus might just be one last go at it and then he plans on moving on. Maybe he was candid and told Anthony that. Maybe he played out the part the front office asked him to and attempted to persuade Anthony to sign the extension.

We don't really know because the meeting was behind closed doors and neither one is really sharing much insight into it. But the fact remains both Anthony and Karl are in Denver now. And for both of them, their focus is this season. At least that's what they're saying.