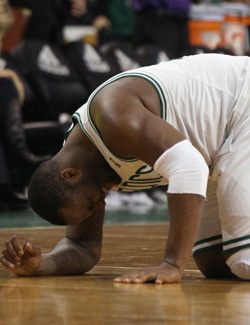 Glen Davis suffering with injured knee, MRI to be done Thursday.
Posted by Matt Moore
When the
Celtics
elected to trade
Kendrick Perkins
, they were confident they would be able to survive based on their depth. They signed
Troy Murphy
in large part to bolster that front office core, but the real work would be done by
Kevin Garnett
, the O'Neals (both of whom are injured), and Glen Davis. Unfortunately, there's an issue with Davis that has become singificant enough he'll be having some tests done. And it's on his knee.
Apparently, Davis has been suffering with knee pain for a while, to the point where at several points he wondered if he could play. He continued to do so out of a dedication to the team, but on Wednesday night, From CSNNE:
But on Wednesday night, the pain got the best of him. Davis suffered a left patella tendon strain going up for shot attempt late in the fourth quarter against the Phoenix Suns. He was helped off the court by the Celtics team doctor and will undergo an MRI on Thursday.

His status for Friday's game against the Golden State Warriors has yet to be determined.
via Davis injures knee, will have MRI on Thursday.
Davis' dedication to his teammates in admirable. It really is. But he's got to keep an eye on the long-term. The Celtics don't really need him in March, or February, or even January. They need him in June. Putting unncessary wear and tear on the knee when the Celtics don't absolutely have to have a win jeopardizes their ability to contend when the games really matter. If the training staff was aware of this situation, they should have shut Davis down for a few games a while ago. You're begging for a tear of some sort, which could mean more missed time, or worse, surgery. It doesn't sound like that's the result in this case, but even if it's just a strain, it's more pressure on an injury that doesn't need it.
Should the Celtics be without Davis on Friday, Troy Murphy will get more run, which may not be a great thing considering how out of shape he appeared and the coaching staff admitted he was Wednesday night. Boy, if only the Celtics had a capable center they could rely on. Oh, wait, no, nevermind, even if they'd kept Perkins, he's out two weeks, too. No win for the C's.