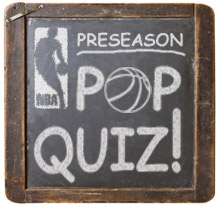 Posted by Royce Young

Fall is here, hear the yell, back to school, ring the bell ... Wait, we're almost to winter. What happened? Who cares, there's a season! The NBA season is right around the corner, and NBA training camp starts in just a couple weeks. To get you ready for the season, we've put together some pop quizzes. Pencils ready? We continue our Pop Quizzes with this question...

We all heard it. Read it. Saw it. Someone even said it. Russell Westbrook needs to chill out.
For the Thunder, pretty much all of the 2011 postseason was focused on Westbrook and what he should and shouldn't be doing. Pass more, dribble less, shoot less, give it to Durant, know your role -- and on and on. Despite all of that outside noise, the Thunder became the youngest team in 20 years to go to the conference finals and that was with the 23-year-old Westbrook leading them.
For most Thunder fans, they were all saying, "What's the big deal? That's just Russell Westbrook." But it didn't matter. When people saw box scores showing 30 attempts by Westbrook's name and the fact he took six more shots than Durant, there wasn't a person in the world that could calm down the harrumphing going about.
A lot of it became about Durant needing a so-called "true" point guard to play with, someone that would get him the ball and then get out of the way. And while all this Chris Paul is hot and heavy right now, some have been rumoring him to Oklahoma City for Westbrook for some time. The common thinking is that alongside a pass-first guy like Paul, Durant would flourish and rule the league as the first 100-point-per-game scorer ever. (Or something like that.)
It was even taken so far that Durant and Westbrook were feuding, which isn't true at all. Did they and do they continue to get frustrated with each other? Absolutely. But that doesn't mean they want a divorce. Consider this quote from Durant this summer:
"I don't want any other point guard," Durant said. "He's perfect for us, the type of guy he is, the type of player he is, the type of teammate he is. We're all competitive, especially me and him. We get the best of each other in practice every day, and we want to go at each other and make each other better. We are going to have disagreements. That's what all good players on good teams do."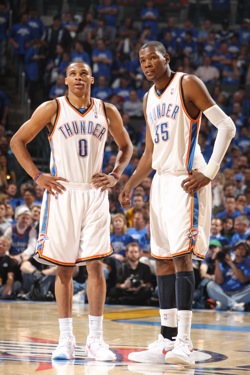 Let's assume though, you're Sam Presti (designer glasses and perfectly gelled hair and all). You just signed Westbrook to an extension the second a new CBA is signed. Dell Demps calls you. Chris Paul for Westbrook, straight up.
What do you do?
First instinct says to do it, right? Chris Paul with Kevin Durant and a supporting cast of James Harden, Serge Ibaka, Kendrick Perkins and Nick Collison sounds like an incredible roster. It sounds like it because it is.
But that's why you're not Sam Presti. He wouldn't do it. Because it's not what's best for his roster in the present, nor in the future. Westbrook's younger, hasn't had a major injury and probably hasn't actually found his ceiling yet. But it's not just about age, it's also about fit.
Consider this: Via NBA.com, the Thunder's offense actually improved more when Westbrook usage went up. Think about that. The more Westbrook inserted himself into the offense, the better OKC scored. And we're talking about a top five offense in both points per game and offensive efficiency.
Look at the numbers: Westbrook assisted Durant on more field goals made than any other player in the league (279, next closest is CP3 and David West with 212). The Thunder's offense finished the season in the top five in both points per game and offensive efficiency, and was a top three unit the last couple weeks.
What made the Thunder turn the page offensively after Jeff Green was traded was three-fold: 1) Green and his horribly inefficient offensive ways were gone, 2) James Harden had a much bigger role and 3) Westbrook had a bit more leash.
The issue was never about Westbrook and Durant working together. It was about the structure and how things changed in a 7-game postseason series against a veteran team and good coach. Don't you think Rick Carlisle had a gameplan prepared to stop the Thunder? And with seven games to figure it out, he was going to have something. The Mavs did their best to take away Durant and put all the pressure on Westbrook to make plays. Westbrook had to score. It was the only way the Thunder would crack 90.
What hurt Oklahoma City there was the fact that Westbrook often tried to do too much instead of taking a deep breath and that Durant had difficulty getting free of Shawn Marion for Westbrook to pass him the ball. In the series against the Mavs, OKC's offensive rating dropped all the way to 78.2, which is horrible. But that was more about what the Mavericks did right, than the Thunder did wrong.
Dallas was prepared for that. Oklahoma City, all the way down to its coaching staff, was not. It's something to learn from. And despite that, the Thunder were a couple blown fourth quarter leads away from having that series 3-2 in their favor and coming back to OKC. They weren't that far off, not by any stretch.
Westbrook needs to improve in some areas. He knows it. Good thing he's just, you know, 23 years old. At the rate he's improved and transformed his game from year one to year three has been kind of incredible. He's added a solid jumper, sees the floor much better, is under control more, passes the ball more authoritatively, actually understands offense and is capable of running one. Don't forget: The Thunder won 55 games, the Northwest Division and was two fourth quarters away from playing for an NBA title. All with a team that features its top four players under the age of 25. The Thunder got to the Western Finals more because of Russell Westbrook, not in spite of him. People seem to forget that when they start playing with the Trade Machine.
The Thunder aren't just fine with Westbrook. They're actually better off with more of him.