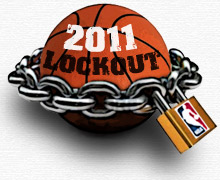 By Matt Moore
With the player's union bitterly divided over how much to surrender in order to get a season, rumor and allegations flying rampant, Saturday's meeting beween the NBPA and NBA was going to be drama-filled to begin with (as much as a bunch of guys in suits sitting around a hotel boardroom can be). But the Boston Herald brings news it's going to go to the next step.
According to sources, the session will be much larger than the recent talks in terms of participation.Players beyond the executive committee are expected to attend, and there could be greater participation on the owners' side, as well, as they try to end the lockout and reach a new collective bargaining agreement.

This may be an effort to make things more transparent in response to inside questions about the directions the two leaderships have been taking. It could also be a show of solidarity from each side amid reports of fractures.One source said he has no idea what to expect from the expanded session.

"It could be that everyone gets together and cooler heads rule the day," he said. "Or it could be one of those battle royales from wrestling. We could see players and owners being thrown over the top rope and out the hotel windows."
via
BostonHerald.com - Blogs:
Celtics
Insider» Blog Archive » More players, owners to get involved in NBA talks Saturday.
Based on how the last week has gone, I would bring a Lucha Libre mask and some tights, if I were you.
This is actually spectacularly bad news for anyone paying attention. Progress has only been made in talks in small groups. Getting the larger contingents involved when thing weren't so volatile was bad enough, and lead to multiple breakdowns in talks. But throwing in the drama of the past week along with owners who no doubt smell blood means that this meeting could be very Hobbes-ian: nasty, brutish, and short. It could turn into a Quentin Tarantino flick: lots of blood and everyone dies in the end.
There's a perfect storm of elements coming to play that could spell the end of the NBA. Not for a season. For good.