Posted by Matt Moore
They've defended exceptionally well. They've played smart. They've "grinded" as both coaches are so fond of saying. But the question remains as the Dallas
Mavericks
seemingly took control after Game 5 heading into a potential closeout game for them Sunday in Miami, was their Game 5 offensive explosion a sign of things to come, or simply an outlier?
After all the Mavericks shot a ridiculous 68 percent from 3-point territory in Game 5. They broke out of a tough, defensive series and wound up with a barnburner offense, especially down the stretch. To make matters better, or worse, they were hitting contested 3-pointers with the shot clock winding down. They convereted low percentage shots into high percentage shots. The
Heat
could have survived
Dirk Nowitzki
doing that. They can't survive
Jason Terry
, J.J. Barea, and
Jason Kidd
doing that. That's a death sentence for the Heat's title hopes.
After practice Saturday, Heat coach Erik Spoelstra talked about how with all the defensive intensity through the first four games, Game 5 was in part about the defenses reaching their limits and guys finally getting into rhythm.
"Sometimes you just get into a rhythm where you're figuring the other team out," Spoelstra said. After Game 5, Spoelstra commented that the Mavericks are a "shot-making team." The question was whether it was inevitable for the Mavericks, who have shot the lights out in the playoffs, to have a high percentage night, or whether it was a drastic outlier against a remarkably solid Heat defense which will probably not buckle the same way again.
Udonis Haslem
said Saturday that the Heat did have to pick their poison to a degree.
"They made open shots. They made some contested shots. They made three or four shots that were at the end of the shot clock. All you can do is take the ball out of the net and go run your offense. You can't hang your head about it."
Mike Miller
admitted that the Heat would rather the game be a lower-pace, lower-possession "grind" as Spoelstra always terms it. But Miller also said if the Mavs are hitting those shot they have to adjust.
"That's what's scary about their offense. They're capable of hitting 13-14 threes. We've just got to find a way to grind it out all the same."
But while those contested shots seem like impossible daggers to the Heat, the Mavericks feel like they're right within their wheelhouse. Early on in the series Mavericks Coach Rick Carlisle talked more about how the Mavericks "just needed to make more shots." On Saturday, Jason Terry said instead of being impressed with the offensive output in Game 5, the struggles throughout the series had been frustrating as the Mavericks felt they could make them.
Last game we made shots that we knew we would get," Terry said. "That's probably been the most frustrating thing about this entire series is having those opportunities that we normally get and we're just not making the shot."

Terry did not shy away from a chance to say that trend would continue. "Play the percentages, I know as a scorer, as a shooter, myself if I get those same opportunities I'm going to make shots. My teammates are going to make shots."

Terry did say that defense had been the backbone of the Mavericks all year, and that if the shots fell, it only makes it "that much sweeter."
It was exceptionally sweet for the Mavericks in Game 5. How much an outlier performance was it compared to the rest of the series? Effective field goal percentage is just like field goal percentage, only it gives weight to hitting 3-pointers, since technically, that's a field goal and a half in scoring. Here's a look at just how good the Maverick's eFG percentage was in Game 5 compared to the rest of the series, and even their playoff average, along with Miami's defensive percentage allowed.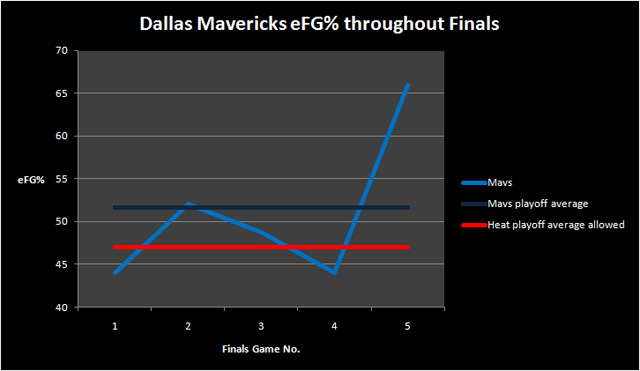 So, yeah, that's a pretty solid outlier of a game, even for the Mavericks' hot shooting throughout the playoffs. But then you also recognize that Game 1 and Games 4, Dallas shot considerably worse than even what the Heat allow. And they split those games. Maybe Terry's right. Maybe for all the appearances of the Mavericks being the lesser defensive team coming in, maybe that's more a reflection of how bad the Heat offense is, and it's going to be the defense for Dallas that wins them a title.
They get their first shot Sunday. But if those shots keep falling, contested or not, it won't matter if it's an outlier or not. That's the position Dallas has put themselves into. A defensive slugfest, a barnburner, a shootout. The Mavericks don't need the perfect gameplan anymore. They just need one good enough to do what they've done three times for a fourth. After that, all anyone will remember is the confetti and the ring.