Posted by Royce Young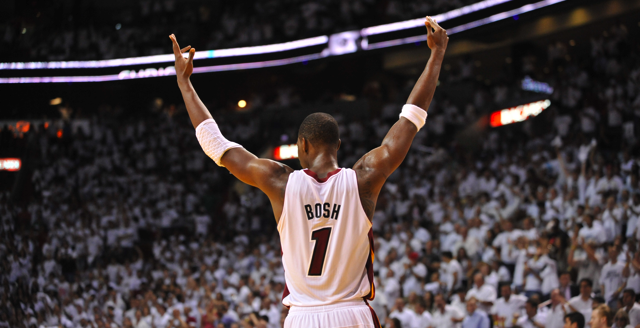 It's not so much what's at stake for
Chris Bosh
. It's more what's at stake
because
of Chris Bosh.
Let me explain.
You know that
Dwyane Wade
and
LeBron James
are good. You know that they're the real Big Two in Miami and that Bosh is sort of an outsider when it comes to the real superstars in South Beach. But where Bosh comes in is that when he's good, the Miami
Heat
are very, very good.
Erik Spoelstra said it early in the year that Bosh might be the Heat's most important player. And while we all sort of laughed at that idea, it became more and more true as the season went along. There's no doubt that Wade and LeBron are the engine that make the car run. But Bosh is certainly the wheels. When he's rolling, so are the Heat.
He has an interesting matchup too, going against Chicago's version of him.
Carlos Boozer
has disappointed at times, even bringing
Bulls
fans to boos early on against the
Hawks
. He hasn't been near the dominant $80 million big man that the Bulls dreamed of. But when Boozer is good, so are the Bulls. For both these guys, it's about being assertive, aggressive and all the other cliche catch words that people love to spit out. With Bosh and Boozer though, they fit every time.
Remember when Bosh said he needed the ball more on the block? When he said he needs to get away from the 3-point line and start pounding down low? It was a revelation to him and to the Heat. It was like Bosh remembered that yeah, I was once a 20-10 All-Star big man. Yeah, I can score on the block. He's always been the black sheep in Miami trying to figure out where he stands next to LeBron and Wade, but he's never been an outsider. The team knows it needs him. The good, aggressive version that is.
Bosh took a beating in the media for much of this season for a number of different things. And to his credit, I don't think he ever handled any of it that poorly. He just didn't always play up to the level most imagined. He was good, but not the Chris Bosh that was the prize big man free agent last summer (remember that?).
And he could make up for all of that with a standout series against Chicago. The Heat need him in a big way for at least four games against the Bulls. Whether it's taking on Boozer or just adding some rebounding and scoring inside, Miami has got to have Chris Bosh if it wants to win the East and after that, a title. All that joking at his expense could go away because it's hard to really rag on a guy when he has "NBA champion" after his name.
At least for a while. Ask
Pau Gasol
about that.