Arizona forward Derrick Williams distances himself from LeBron James but welcomes a comparison to Dirk Nowitzki. Posted by Ben Golliver.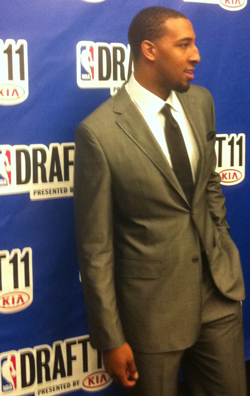 NEW YORK, N.Y. -- Derrick Williams would rather be compared to Dirk Nowitzki than LeBron James.
In one of the most interesting scenes from Wednesday's NBA Draft media availability at the Westin in Times Square, Williams, a forward out of Arizona who is expected to be the second player selected in Thursday's 2011 NBA Draft, went out of his way to repeatedly distance himself from James.
Williams, who averaged 19.5 points and 8.3 rebounds for the Wildcats as a sophomore, has done this through the pre-draft process any time someone asks him what it would like to be taken by the Cleveland
Cavaliers
with the first overall pick. Clearly, there will be a huge burden that goes with filling James' sneakers after he abandoned the Cavaliers to team up with
Dwyane Wade
and
Chris Bosh
for the Miami
Heat
. The storyline takes on added emphasis in Williams' case because he throws down his fair share of highlight reel dunks and because he wore No. 23 -- the number James wore for the Cavaliers -- at Arizona.
"I don't want to be LeBron, I don't want to be anything like it," Williams said bluntly. "Whoever gets picked at the No. 1 spot, that's what the city is going to be looking for. 'The Next LeBron.' If they pick me, I don't want to be labeled next to him. He's going to go down as one of the top 25 best players to ever play the game. I'm not trying to be like him. I just want to go out and play my game like I've been doing my whole career."
While Duke University point guard Kyrie Irving is the favorite to be selected No. 1 overall, Williams told the media that they shouldn't count him out yet.
"I think there's always a chance," he said. "We'll never know until that draft pick comes. One or two, it's an amazing feeling."
As Wednesday developed, "one or two" started to sound less and less like a guarantee. The Minnesota Timberwolves hold the No. 2 pick and are reportedly shopping the pick hard while also giving consideration to Turkish big man Enes Kanter. Williams is considered a clear-cut top two player in this draft by most talent evaluators, but the Timberwolves already have forward Michael Beasley in place, who shares some similarities with Williams in that he is a combination forward who is a versatile scoring threat.
"Me and Mike Beasley probably play a little similar," Williams admitted. "I probably like to shoot a little bit more than him. On the advantage side of that, it's hard to guard two guys that similar. You rarely have two guys that play similar on the same team."

It's unclear whether having two players who both need touches on the same team with Kevin Love would actually be an advantage or a disadvantage. At least it's clear Williams has given some more thought to questions about his position.

Soon after the Draft Lottery, Williams began steadfastedly maintaining that he is a small forward, even though his body -- 6-foot-9, 250 pounds -- and his college résumé pegs him as at least a stretch power forward, if not an undersized four. On Wednesday, he seemed to concede that his game probably isn't as clear cut as he might have wanted to make it.

"I don't want to be labeled as one position," Williams said. "My whole life I've been labeled as multiple positions and multiple spots on the offensive and defensive side.

"There are so many types of different players these days. You look at Dirk Nowitzki, he's a four but he's never in the post, he's on the wing. Lamar Odom, he's a combo four. Hybrid fours like Antawn Jamison. I think I fit well in this league."

It's strange to hear a high-flyer like Williams compare himself to Nowitzki, and that's probably wishful thinking. There's only one Nowitzki. Physically, the two don't have similar body types and Williams definitely doesn't have Nowitzki's array of jumpers. The Odom and Jamison combinations fit a little better.

Williams knows that regardless of what position he plays, defined or not, he has an adjustment coming. "There's a lot of bigger guys on the court. Strength-wise, I would probably say that [is my biggest fear]," Williams said. "Just not being as big as everybody else. At the college level I was bigger than most guys. I can't use that to my strength now.

In this, Williams, who won't fall past the Utah Jazz at No. 3, is correct. If he's worried about his strength at the NBA level, he definitely shouldn't be compared to James.