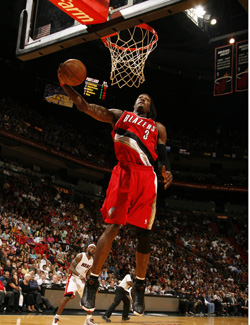 Gerald Wallace felt "betrayed" by the Bobcats in being traded to Portland. What's odd is that he's right, despite the Bobcats having done right by him.
Posted by Matt Moore
From
The Charlotte Observer
:
"Basically, you feel betrayed by somebody you love,'' Wallace told the Observer before Saturday's Blazers-Bobcats game. "I totally didn't see it coming. I'd been there seven long years and then you feel like you're not wanted anymore. That's a bad situation to be in, especially for me, who committed so much to the organization."

"I understand the situation – it's a business and they're looking to start all over. They wanted cap room, and I guess I was the logical answer for them trying to get draft picks.''
via
Inside the NBA: Wallace: Bobcats betrayed me
.
Getting traded has to be a strange feeling. In civilian life outside of professional sports, if your work wants to relocate you, they have to speak with you first. You have the right to simply not go and find employment where you want, in most cases. But in sports, you're traded and all of a sudden everything you've committed to a franchise, to a city, to its fans, is gone. It's all part of history. You're now a completely different player with a completely different uniform in a completely different role in a completely different city. And it happens in a day. Gerald Wallace woke up two weeks ago as a Bobcat and by 4 p.m. he was packing his bags and saying goodbye to his kids, headed for the west coast. As
Ken Berger put it
, "money is good, but nothing compares to family."
What strikes me in Wallace's hurt here is that Wallace was granted what so many players ask for. A second chance (third, really) on a playoff team. Wallace has been putting in stat-stuffing, All-Star worthy seasons for years, mired in the mediocrity of a franchise that got started on the wrong foot and has continously jumped on that same foot while pounding its other foot into a brick wall. The Bobcats have never gone anywhere. They made the playoffs last season as a result of a masterful coaching job by Larry Brown, then got swept from the playoff beaches by Orlando. Other than that they've been a joke. They've been forced into trading for above-average players with terrible contracts to get any traction at all and now that that plan has had its last ounce of success milked, they're back to rebuilding, this time actually rebuilding. Had Wallace not been traded he would have been miserable as a competitor, watching
Stephen Jackson
head elsewhere while he struggled to try and find some measure of success among
Tyrus Thomas
,
D.J. Augustin
, and
Gerald Henderson
. Who would want that life?
Maybe not Wallace, but Wallace still wanted to be told. He wanted to be informed of the decision, for his time in Charlotte to have earned him the right to weigh in on whether he was relocated or not. You may not believe that Wallace has any right to be informed. After all, this is a business, teams have the right to trade players, they needed to trade Wallace and part of his contract allows for this scenario to happen. But it's more that Wallace had felt he'd given enough to the organization to warrant some level of being brought in, so as to not feel blindsided, or "not wanted" as he put it. That's certainly not the case. In truth, the organization must have loved Wallace to have kept him this long. He was their All-Star, he was the franchise. They moved him because they had no other choice and moving him brought in the best package available.
That Wallace fetched so little on the market had less to do with his value as a player as it did with the leverage and position of the Bobcats organization. And that same perception is reflected in how they treated Wallace by not informing him. It's the kind of thing that makes players reluctant to consider Charlotte, even with the GOAT at the helm.
Perhaps the most important element in all this, however, is what it says about Wallace. Wallace was hurt that a franchise going nowhere gave him the opportunity to go be a part of a playoff team in a similarly small market, as a franchise cornerstone next to good, veteran players, and
LaMarcus Aldridge
. He was disappointed that a franchise freed their best player to go have a shot at meaningful games on a succesful franchise. He felt unwanted by a team that basically stabbed itself and Stephen Jackson's career in moving towards a true rebuilding phase, and in doing so managed to get Wallace out of the way of the collateral damage.
Wallace has every right to feel the way he does, but things could have ended so much worse for him. And the Bobcats continue to show that both of the axioms about markets are on point. Small markets suffer because of the insurmountable hill they have to climb in order to be relevant as opposed to the anthill large markets have to overcome, and small markets suffer because of poor management, poor ownership, poor player relations which keep them at the bottom.
Trades are weird.