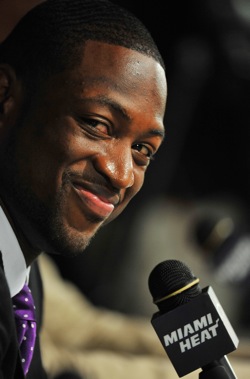 The Heat star talks about coming home, being portrayed as a villain, and handling the ball among the Miami Triad.

Posted by Matt Moore
Dwyane Wade
isn't Public Enemy No.1 in the NBA, but he may be No. 3. As the inciting member of the new Miami Triad, he's taken a lot of hea... I mean, flak for how "The Decision" and formation of the new Heat came together. And that was before the response to his
Twin Towers comment
. But the negative attention hasn't slowed him down at all... either in terms of personal engagements or from his multiple charity commitments.
In fact, Wade has become quite the force when it comes to NBA charity work. He now has the Summer Groove event he does in cooperation with Alonzo Mourning, and the event he will host this weekend; The
Wade's World Charity Weekend
in Chicago. The event features benefit dinners, a bowling party and basketball workshops, but the focus is on communicating with underprivileged kids in Chicago about the importance of education.
Not exactly the nefarious work of the villain Wade's been made out to be, along with
LeBron James
and
Chris Bosh
. I spoke with Wade by phone today about the weekend, being portrayed as a villain, and oh yeah, who's handling the ball in Miami?
Matt Moore - CBSSports.com:
So you're heavily involved with this charity as well as Zo's Summer Groove. Why is this one so important to you, is it just the element of being home?
Dwyane Wade:
Yeah, just being home, you know? I'm honored to be involved with Summer Groove in Miami with Zo and the work we do there, but this is where I'm from. I know what these kids go through, because I went through some of the same things. I see myself in some of the youth here, and that's why it's so important.
Moore:
We live in an era where athletes of all types and sports do very real, very explicitly illegal acts, and little is made of it. On the other hand, your business decisions of the past three months have led people to vilify you and your teammates to a degree. Is it frustrating to see the kind of negative attention you receive, despite being a great player, a good teammate, and a positive force in the community?
Wade:
Yeah, I don't think the world focuses on the positive things enough. I understand being the villain is what people like. People play to that. They want to know about the villain. They don't want to know about the good. They say they do, but statistics show that they don't. The thing is, I don't do these things for recognition, being a good teammate, being a positive member of the community. I do them because those things make me whole and complete. A lot of that negativity? It's just speculation. You've gotta deal with it and move on. I've learned that not everyone's going to be 100% DWade. Hopefully the ones that do get to know me more and the things that I do and that's what they make their opinions from, from who I am. Everything else is just speculation.
Moore:
What event specifically is the best part of this weekend?
Wade:
The Saturday where we focus on the kids. That's when we have the Youth Summit, dealing with major issues. Specifically, violence and education in Chicago. And that's when I get to hear their stories and what they've been through. The talent show that night, giving them a platform, letting the community know these kids are out there and giving them a voice. That's a really big part of this weekend, giving the community to really check these kids out. We need more support from the community for these kids.
Moore:
Doing these events, seeing these kids first hand, all the work that you've done, does it make you want to be involved at a higher level? Does being so involved make you think about being involved in a political or more advanced level when your playing days are over?
Wade:
Yeah, actually. My focus is on right now, my goal is to start now and do things now. Then, to build a platform when I'm done playing basketball. I try and do these things, not just in Miami or Chicago. I do things in every city we go to, like during All-Star Weekend. I just want to make a difference as much as possible. At the end of the day when there's no more DWade, I want to have made a difference.
Moore:
With the new Heat coming together, you've got more weapons, obviously, but there are going to be questions about how it's all going to work on the court. Do you see yourself handling the ball more coming up the floor more, less or the same as in years before? Are you going to be playing more of a point-type position, or will it be business as usual in Miami?
Wade:
The same pretty much. You know, I handled the ball a lot last season in Miami. I also played off the ball a lot. I don't think that changes a lot. I'm a playmaker, and I'm going to score. At the end of the day, my job is to put the ball in the basket. I'm also going to create opportunities for my teammates, and that won't change.