Posted by Matt Moore
In yesterday's episode of
LeBron-o-rama
, we saw that New York was the heavy favorite. That was soon to be overridden by late last night's report that the
Heat
had become the front-runners
to court a King. But the real answer to this riddle? No one knows where James is going. Probably not even LeBron.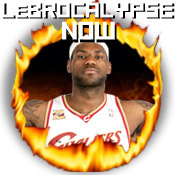 Throughout this entire process, James has kept his thoughts and feelings close to his vest. While
Dwyane Wade
spoke more openly about what he was feeling and thinking, and Bosh let it be know through various leaks, James has been a sphinx. Silent, unmoving, a riddle in statue form. The news that's come out about his thoughts or preferences? They've all been concepts that come from "sources" close to the situation. You know who's close to the situation? James. That's it. The whole kit and kaboodle.
And most strange in all of this? There have been no leaks that put him back in Cleveland. Not
the location of the announcement
. Not the
movement of his tax documents
. And not the prospect of the super team. It's all leaning away from Cleveland.
Why?
Why in a time when there is abject speculation from every angle and degree, where every person with an agenda for James going to his or her city, is there no significant word about Cleveland?
And again, the reporter who's followed his entire career, who's been a step away from him from the time he hit high school,
that guy isn't hearing anything
? A guy who's as widely respected in NBA media circles as anyone and who has had the, er... mouth of
LeBron James
(since if he had his ear LeBron would be listening to him, and that's not really, you know, let's just move on), that guy has heard nothing. Zilch. Zero. Nada.
Something's up.
Now, it could be that James is trying to downplay the devastation he's about to wreak on the city of Cleveland and state of Ohio. Both financially and personally, a whole bunch of Ohio folks are about to be crushed if he has in fact decided to bolt. It would make sense to put distance between James and Cleveland publicly.
Plus, Cleveland just doesn't have the media to drum up rumors. And the media they have won't do it. So we're left with silence about Cleveland. And it could be that that silence says more than anything. Maybe it does, maybe it doesn't. We'll know tonight. But the one thing I am sure of?
The only person who knows what's going on has
"Chosen One
" written on his back.