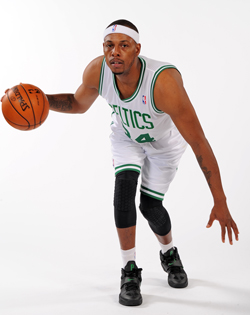 By Matt Moore
Paul Pierce
has missed the
Celtics
first three games, all losses, with a bruised heel. But he could be headed back for Boston's season opener Friday night.
Pierce tweeted on Thursday:
"I'm close very very close very."
If we examine Pierce's statement on the Very Scale, we see that he is very close. The Celtics have listed him as day-to-day Friday and he'll likely be a game-time decision.
The Celtics badly need Pierce back, not just for scoring, but as an offensive creator outside of Rondo. The Celtics were down by 20-plus to Miami before a late rally fell short, then were obliterated the following neight in New Orleans against a
Hornets
team without
Eric Gordon
. The Celtics can survive an early slump, but not an abject disaster.
Ken Berger of CBSSports.com says that Pierce coming back will be when we can really evaluate whether the Celtics are in trouble or not.
You can't fully evaluate the Celtics until they get Paul Pierce back. Even then, it's going to be a bit of a horror show at times for Boston, with old bodies stressed by the schedule and not enough depth to cover it up. In a shortened season, three- and four-game losing streaks certainly are magnified. But as long as Boston's core remains healthy and gets them through the season, they'll be there at the end.
via
Friday 5 with KB: (Too) Early returns - CBSSports.com
.
The
Pistons
are winless this season.