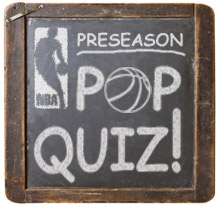 Posted by Royce Young
Fall is here, hear the yell, back to school, ring the bell
... The NBA season is right around the corner, and NBA training camp starts in just a few short weeks. To get you ready for the NBA season, we've put together 25 pop quizzes. Pencils ready? We continue our
Pop Quizzes
with this question...
Who is winning Rookie of the Year? John Wall, Blake Griffin or someone else?
There's the Madden Curse, the Curse of the Billy Goat and the the
Curse of the Sacred Buffalo.
And for the past couple years, there's been the Curse of the No. 1 Overall Pick.
Of course there's
Greg Oden
who missed his entire 2007-08 rookie season because of microfracture surgery on his knee.
Derrick Rose
escaped and had a nice 2008-09 rookie campaign, but then Blake Griffin fractured his patella and sat out all of 2009-10.
Maybe it's a trend. Or maybe like the other "curses," it's just a combination of coincidence and bad luck.
But not often do you have a season with two No. 1 overall picks playing their rookie seasons together. John Wall and Blake Griffin are the last two top picks in the NBA and they are both entering their official rookie seasons. Griffin was the clear-cut favorite for Rookie of the Year last season before he got hurt, but his injury opened the door for
Tyreke Evans
to snatch the award. But with how electric Evans was last season, who knows, he might've won the award anyway.
So coming into 2010-11, we have two obvious favorites. But will one of them win it? If so, which one? Or if not, who else could slip in and grab the Eddie Gottlieb Trophy? Here are the favorites and then two sleepers:

THE FAVORITES
Blake Griffin, Clippers
- It's easy to forget what a freak of nature Griffin is. It's easy to forget his non-stop motor, his talent, his ridiculous ability and his awesome athleticism. He sat out last season so it's easy to forget that he was pretty much a consistent 20-20 threat at the University of Oklahoma and that he averaged almost 30 points and 15 rebounds in the NCAA tournament. It's easy to forget that he was the most dominant college big man since
Tim Duncan
.
But he's healthy and he's hungry. Those are two very, very scary things for those that dare challenge him head-to-head. Griffin has an other-worldly work ethic and he's spent the last 15 months waiting to get a crack at the NBA. He's ready to go and the Clippers need his services. He'll get big minutes and he'll likely put up big numbers.

John Wall, Wizards
- In terms of pure flash, skill and NBA talent, it's hard to top John Wall. He just has some sort of allure to him that makes him must-see. And that sort of thing goes a long way in determining Rookie of the Year. Wall has "it," whatever "it" is.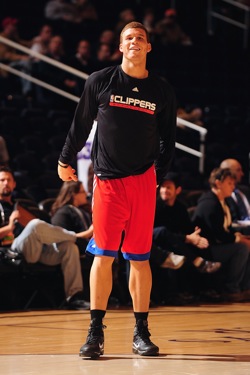 He's going to struggle some though, especially early on. He's being put in charge of a fairly bad Wizards team from the get-go. He's going to have to manage being a scorer and a distributor, something really good point guards don't figure out most times until their third year. He will struggle at times. He'll turn the ball over. He'll miss open shots. And he'll likely get frustrated. But Wall will have flashy games, good numbers and most of all, that Derrick Rose like draw that just makes him fun to watch.

DeMarcus Cousins, Kings
- A lot of really smart analysts agreed in June, DeMarcus Cousins was the most talented overall player in the draft. He's the most NBA ready player and most capable of stepping on the floor and contributing this second.
But for Cousins, it was a between-the-ears thing.
Assuming his head is on straight and he's focused, Cousins is an absolute force on the post. In the first three games of Vegas summer league, he was nearly unguardable. He was a walking double-double. But then he got tired, lost interest and his numbers dipped severely. If we see the good Cousins consistently, he's a legit contender. If he wavers, he might not even make an All-Rookie team.
Evan Turner, 76ers
- During summer league, Turner looked lost. He looked confused. He looked as if he wasn't sure of himself, his abilities or how he was supposed to fit in.
But remember,
summer league.


Turner nearly averaged a triple-double at Ohio State last season. His issue will be something he doesn't really control. New 76ers coach Doug Collins will have to figure out where he's supposed to play. Is it point? At the 2? At the 3? Once that gets settled and Turner fits into his role, he should be a guy that finishes with quality numbers on a team that likely won't be very good.
Greg Monroe, Pistons
- Maybe Monroe would be better suited in the "sleeper" category. He was drafted seventh overall and isn't set up to garner a ton of attention or playing time early on in Detroit.
But Monroe's skills are unignorable. He passing beautifully out of the post, has terrific footwork and rebounds better than people give him credit for. Right now, he's a little low on the depth chart, but the Pistons are likely planning on moving some pieces around. So Monroe will probably get plenty of playing time in a rebuilding situation.
TWO DARK HORSES
Patrick Patterson, Rockets
- Daryl Morey traded
Carl Landry
away to Sacramento last season at the deadline. And he replaced him with, basically another Carl Landry.
Patterson is a machine on the post. He never stops working, never stops fighting. He's pretty much a perfect Houston Rocket at this point. The traditional box score may say he's not great, the measurables may say he's not super talented, but he just gets it done. Given the chance, he might slip in and average quality numbers playing in a bench role for Houston. And if so, he might also slip into the ROY discussion.
James Anderson, Spurs
- With the oft-injured and aging Manu Ginobili playing in front of him, James Anderson might be called upon at some point to step up in a big way for the Spurs. And since he plays for San Antonio, obviously Anderson will be up to the task, because that's the just the way the Spurs work.
He was an elite scorer in college that was questioned at the next level because he's not overly athletic and doesn't score at the rim. But does it matter when you can just plain score? He shoots an open 3 beautifully, he gets to the free throw line and he's not a bad defender. If he gets opportunities, he could potentially average double-digits and play a big role in keeping the Spurs going. And that might be enough to at least get him in the conversation.
THE PICK
This is a weird year. On one hand, there are the obvious favorites as in, two No. 1 overall picks. But on the other, it's a wide open race because there's a lot of uncertainty surrounding those guys. Can Wall settle in with Washington? Is Griffin completely healthy? How good is DeMarcus Cousins and can he jump other candidates?
After Blake Griffin's injury last season, the ROY race opened up completely. Basically everyone had a shot. This season, it's pretty much a two-man showdown, with a couple dark horses hanging around. Writers are just waiting to hand the award to either Wall or Griffin, so in order for someone else to get into the conversation, they'll have to have a big time year.
So it comes down to the two No. 1s. Griffin has the advantage of going through an NBA season already, even if he didn't play. He's had a year of practices, a year of meetings, a year of travel. And most importantly, a year away from home in a big city with a lot of money in his pocket. He knows how to handle it. Wall on the other hand, is coming in like a traditional rookie - fresh.
Basically in my mind, it comes down to Griffin's health. If he doesn't sustain anymore injuries and is able to play the bulk of the season, he's going to have seriously good numbers. Probably something in the 17-10 range or maybe even better. He's a statistical machine. Wall will have a nice year no doubt, but Griffin will likely put up numbers that can be ignored. And that's why, in his second rookie year, Blake Griffin gets the Eddie Gottlieb Trophy.