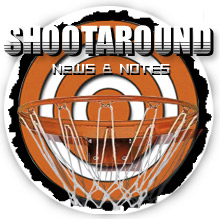 Positional struggles, Heat bar losing dough, Westphal losing a lot, and the Lakers should have lost by more, all in today's Shootaround. Posted by Matt Moore
Two things about this interview with Sam Bowie about Greg Oden: 1. the point about Bowie being happier with his life than Jordan is something Oden really should focus on and 2. unfortunately Oden can't afford to do what Bowie suggests and give himself extra time. There's just too much pressure, especially with his contract situation.
The Miami bar that offered to pay a $25 bar tab if the Heat lost? Yeah, they've lost $30,000 so far . And while the publicity is great, you have to wonder if they're going to have to cut that out soon.
Is DeJuan Blair a bad fit for the Spurs as currently concocted? The idea is that he's a 5 and Duncan's a 5 and because his skills don't compliment Duncan, that limits him. I think he could probably survive with Duncan if his weakside rotations were better. Hard to imagine Greg Popovich is really concerned about his "clean-up" center shooting. Players who have played well in that role include Fabricio Oberto and Kurt Thomas.
Marc Gasol is not healthy, and it's showing . I watched Memphis-Golden State over the holiday and Andris Biedrins absolutely destroyed Gasol. It wasn't even shiftiness or the system. He just shot over Gasol. For a normally terrific defender, it's bizarre to see him lacking in straigt-up man defense like this.