Houston Rockets center Yao Ming officially announced his retirement in Shanghai, China. Posted by Ben Golliver.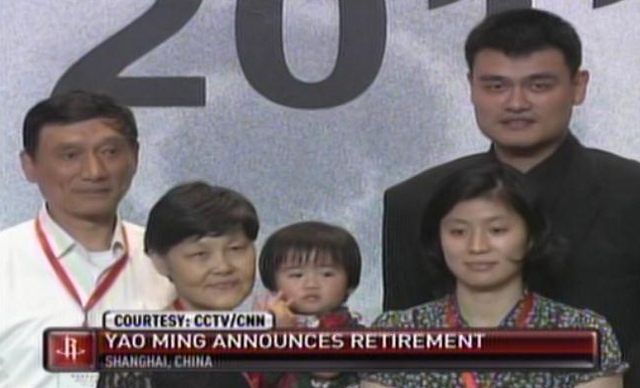 Houston Rockets center Yao Ming officially announced his retirement from the NBA at a press conference in Shanghai, China, in front of a crowd that included his family, Rockets GM Daryl Morey, Chinese Basketball officials and hundreds of media members.
He began by addressing the crowd in Chinese.
"Today I need to make a personal decision as a basketball player," Yao said through a translator. "I will stop my basketball career and I will formally retire."
Yao then went on to give a list of thanks, which started with the game itself. "I am grateful to basketball. It has brought happiness to many people, including myself."
Yao said he would not leave basketball completely and will begin working with the Shanghai Sharks, the Chinese team he played for prior to coming to the NBA. He said he hoped his forthcoming work with the Sharks would "help bring happiness to the fans" and serve as a "contribution to the Chinese basketball industry."
"This will be just a comma, not a period," Yao promised. "I will not leave basketball, I have many things to do."
After that statement, Yao briefly addressed his "friends overseas" in English.
"I would like to thank you for giving me a great nine years during my NBA career," Yao told Rockets fans. "Nine years ago I come to Houston as a young, tall, skinny player. The entire city and team changed me into a grown man. Not only a basketball player. And also I had my first daughter over there. I feel like a Houstonian and I will always be with you."
"I've been around a lot of great players, but none as hardworking as Yao Ming," Morey said. "Such a great player, how humble he is, also his humor, how funny he is."
Here's video of Yao's opening remarks in Chinese, which are translated to English.
Here's video of Yao's direct statement to Rockets fans in English.