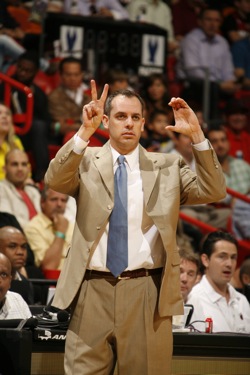 Posted by Royce Young
It only took about three months too long, but the Indiana
Pacers
will introduce Frank Vogel as their next coach
at a press conference Wednesday.
Reportedly,
Vogel signed for three years with the team
, with the third being a team option.
Interim coach after Jim O'Brien was fired earlier in the season, Vogel helped the Pacers finish strong. They went 20-18 with Vogel in charge and pushed the top-seeded
Bulls
in the opening round of the playoffs, eventually bowing out in five games.
What was the hold-up, though, in naming him the head man?
Management -- read, Larry Bird -- was concerned with Vogel's ability to oversee a locker room and maintain the respect of his players. According to a report, things like punctuality and discipline slipped after Vogel took over. As a result, he targeted strong-minded assistants, one being Brian Shaw formerly of the
Lakers
.
Vogel, if you'll recall, is now officially the league's youngest coach at 37.
He seems to be a natural fit for the Pacers, and the team obviously plays hard for him. It's a wise move for the Pacers to retain Vogel. There are other good alternatives, but clearly the team is willing to play for him, and continuity is always a good thing, if it's an option.
When he took over the job in February, Vogel said, "We're changing the identity of our basketball team dramatically. We are a power-post team, blood and guts, old school, smash-mouth team that plays with size, strength, speed, athleticism. We attack the basket."
The Pacers did exactly that, playing a bit more uptempo while also integrating
Roy Hibbert
in the post. It was an effective strategy and was a big part of the team finishing well.
The Pacers were also interested in Mike Brown and Dwane Casey, but both of those found jobs with other teams. Who knows if they turned down the Pacers or vice versa. What we do know is that Vogel is officially in charge of the team he seemed to connect well with last season.
It's a little funny to me too that Vogel got this job. Back in January when the Pacers were considering canning O'Brien, they hesitated because they didn't feel a good interim replacement was on the current staff. They went ahead with firing O'Brien and then promoted Vogel, a young and raw assistant. He did well, got the team to buy into a system, play hard and make a playoff push.
And now he's the team's full-time coach. Sometimes, the best option is right under your nose.