Posted by Ben Golliver.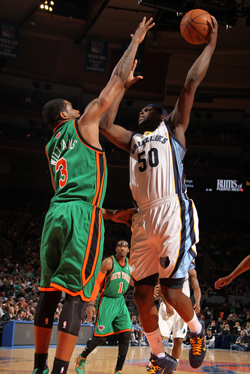 Mo money, mo problems. As always.
Four months after
signing a four-year contract extension
reportedly worth upwards of $70 millon, Memphis
Grizzlies
power forward
Zach Randolph
has found himself in the middle of another legal investigation.
The Oregonian reports
that Randolph's house in West Linn, Ore., was the site of an alleged "drug-related assault" and that police served a search warrant on the premises early Sunday morning.
At 12:30 a.m. this morning, detectives with the Clackamas County Sheriff's Office's homicide and violent crimes unit served the warrant at Randolph's home, at 1425 SW Turner Road. Sheriff's spokesman Sgt. James Rhodes said Randolph was home at the time police served the warrant.

Rhodes said the search warrant came as part of a drug-related assault that occurred at the home early Saturday morning.

A man who was at the home told police he was assaulted with a pool cue by multiple people; Randolph was at home at the time of the incident, Rhodes said, but was not a suspect in the assault.
KGW.com reports
that the man who was assaulted identified himself as a drug dealer.
James Beasley, 26, told KGW News that he went to the West Linn home of former Portland Trail Blazer Zach Randolph to sell marijuana and when there was a disagreement over price, he was beat by men with a pool stick.

Beasley, who met with KGW along with his brother, suffered a concussion in the attack.
Beasley's brother told the news station that he was "disappointed" Randolph did not intervene to stop the beating.
CBSSports.com wire reports
provided these additional details
on Monday evening.
The man told sheriff's deputies at least three men assaulted him but Randolph was not among them. No arrests have been made, and authorities said none were expected on Monday. Beasley was treated for head and face injuries and released from a hospital later that afternoon, when he called police, Rhodes said.

Officers served a search warrant early Sunday. They spoke with 10 people in the home at the time and recovered pool cues and blood evidence. They did not find drugs in the home. Rhodes said the evidence "was consistent with the victim's statement about where and how he was assaulted," and authorities were trying to figure out who was involved in the assault.

Beasley told officers he recognized Randolph and was certain the Grizzlies star wasn't involved in the beating, but he didn't know the names of the people who assaulted him. Beasley said there were about 20 people at Randolph's home at the time. Rhodes said detectives will probably ask the victim to pick the suspects from a lineup.
Randolph could not be reached for comment by telephone or at his home and the Grizzlies declined to issue a statement.
Randolph has owned the home since his time as a member of the Portland
Trail Blazers
, where he played from 2001-2007. During those years in Portland, when the team was often referred to as the "Jail Blazers," Randolph was involved in
numerous scrapes
with the law and reportedly suckerpunched a teammate at practice. He has
pleaded guilty to receiving stolen weapons
, was
arrested on suspicion of DUI
and was
implicated in a drug ring
. As a member of the Grizzlies in May 2010,
drugs were found
in an automobile belonging to Randolph.
The 2010-2011 season served as redemption of sorts for Randolph, who led the Grizzlies past the San Antonio
Spurs
in the first round of the Western Conference playoffs.
When Randolph signed the extension during the Grizzlies' first round series against the Spurs, he made the case that he has grown up.
"I've changed as a player," Randolph
told MySanAntonio.com
. "I've matured. I know the game better. I feel like I'm getting better as a player."
He also
told the Sporting News
that he has gotten a bad rap. "I feel like I've been misunderstood," Randolph said. "People talk in this league. People who don't know you hear something and go with it."
Randolph, 30, averaged 20.1 points and 12.2 rebounds in 36.3 minutes per game last season.