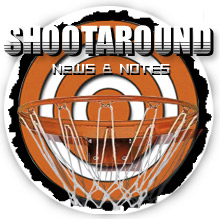 Hornets' fans plight, Chandler does not wish NY flight, the Cavs have no fight, and a Sixers mascot sight. All this and more in today's Shootaround.
Posted by Matt Moore
An interesting question, to be taken only in the abstract.
Is it fair for the fans in New Orleans
to have to check attendance figures every two years and put together the kind of effort needed to meet the mark to avoid the escape clause? A writer at Yahoo! points out that it will simply take more time for the city to embrace the Hornets in the same way they have the Saints, who have been there for about 30 years longer. These things take time. Regardless of whether it's fair or not, that's the situation the Hornets will continue to face until a new ownership system is place that is committed to the area long-term and the economy starts to pick up.
Attempting to appreciate
Stan Van Gundy. The fact that SVG gets so much flak considering his pretty incredible record of success is stunning.
Well
played on that photo
,
Orlando Sentinel
.
Danny Granger
at the deadline
could be a huge playoff difference maker if someone can get him from a continually reeling
Pacers
club.
Why are the Cavs
this bad
? Some interesting questions on team building and the cost of not drafting well, regardless of contender status.
Folks in Seattle
still say it is a basketball town
.
Via the
700 Level
, here's an image of the Sixers mascot bowling... himself.
Kahn is "
absolutely sure
" Rubio is joining the Wolves, eventually. Kahn being right will vindicate him to an enormous degree and buy him considerable time in his gig. Being wrong would be catastrophic. At the end of it, I still wonder about committing so much to a guy who doesn't "actively" want to be there. More on this later.
Wilson Chandler
may have switched agents to Happy Walters, who is an interesting man, and who also represents
Amar'e Stoudemire
,
to avoid being traded
.
Rodney Stuckey
"
felt something pop
" last night, which can't be good.