How much should legacy or prior career achievements factor into a player's All-Star selection? Our NBA crew debates that question. Posted by Ben Golliver.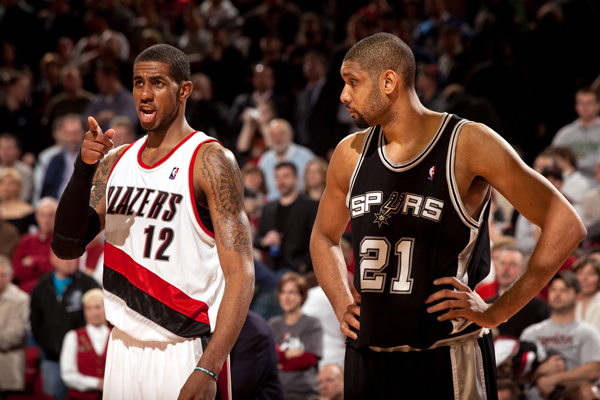 All-Star reserves will be announced on Thursday, and par for the course, the coaches have some tough decisions. We'll be debating the merits of each choice the coaches will have to make. These debates don't necessarily reflect the actual opinions of the writers. Think of it as opposition research, only if we opposed everyone. Our third debate? How much does a player's legacy influence his potential selection and how much should legacy influence the selections? Should guys get in on past accomplishments or should the coaches reward the younger guns?
Legacy isn't that big of a deal, and that's a good thing
by Royce Young
The All-Star Game rewards players for having fantastic individual seasons. For having excellent statistics and playing terrific basketball. I think players like
Tim Duncan
and
Shaquille O'Neal
have indeed earned something over their careers. They've worked their way into immediate Hall of Fame induction and greatest ever discussions. So in a game that awards that sort of excellence, a player's legacy certainly has something to do with it. If nothing else, it's a pretty good trump card to have.
Overall, I don't think either things should matter all that much. If you're good and you're having a great season, you deserve All-Star consideration. If your team stinks and you've got no legacy, it shouldn't matter if you're an All-Star. That distinction should be earned over the first half of the season, not over 15 years prior.
Legacy matters a lot, but it shouldn't
by Matt Moore
I think it's pretty clear that legacy is the overriding factor in a lot of coach's decisions. This sport revolves around respect for those who have consistently been great, and is tough on accepting those who have not gone out and obtained such success this season. I think when you look back at so many of the decisions being made out of respect for previous accomplishment,
Allen Iverson
, for example, versus current role, abilities, and performance, that's pretty clear. But is it right? I tend to think it's a silly waste of a mark of recognition that could go to someone else. It's one thing if it's someone like Tim Duncan, who's team is the best in the league right now, and while his production doesn't mirror that of his past All-Star seasons, he's still a huge focal point and able to put in a great night's work. But someone like Shaq, or
Vince Carter
in year's past, where his performance really doesn't have that much of an impact on the game? To include those players over someone younger, who's carried his team this season and performed at a star level I think misses a great opportunity to expose the fans to guys they may not have heard of.
We've got enough opportunities to lavish over historic legacies. But younger, hungrier players are trying to make a name for themselves now, and in ignoring their efforts, you're downplaying what matters most: what's happened on the court. I look at a guy like
LaMarcus Aldridge
, or even a less obvious pick in
Rudy Gay
, whose contributions have meant as much to his team as many of the reserves, and I see a wasted opportunity to really shine a light on guys having a phenomenal season. Oddly, the East seems much more ready to simply accept the work done, with guys like
Al Horford
and
Gerald Wallace
selected last year. The typical response is "Those guys are All-Stars?" They are, and they should be. It's time we stop treating the game like an annual repetition of a lifetime achievement award.
Legacy matters a lot, deal with it
by Ben Golliver
Pardon me for always playing the role of the cynic, but we can agree that the NBA All-Star game is a popularity contest. The easiest way to win a popularity contest? Have an established track record of being popular, of course. Name recognition and star power count a lot; That's just life in a league where the super-duper stars that cross over into "household name" status are 10-100 times more well-known than up-and-comers that haven't tasted true national popularity yet, even if they're better players over the first half of the NBA season.
Does it bother me that young guns occasionally get left out of the All-Star game to pay homage to an elder statesman? Sure, it does. But I tend to look at the cream of the crop NBA talent as a giant warehouse, with new models being introduced to an existing inventory and old models eventually becoming obsolete. There's an assembly line process feel of it, and the coaches do a solid job of making sure deserving players get a crack at some national publicity while the truly deserving players come back year after year.
To boil it down: I'm cool with the current "you have to really, really prove it" system for young guys to make it. Every year, someone (
Kevin Durant
, etc.) rises to that standard and it makes the accomplishment that much more special. And, every year, we get a final look at some oldie classics (Tim Duncan, perhaps). I just don't see any perennial, big-time losers in the current set-up.