Spurs clinch top seed in the West. How the West was won.
Posted by Matt Moore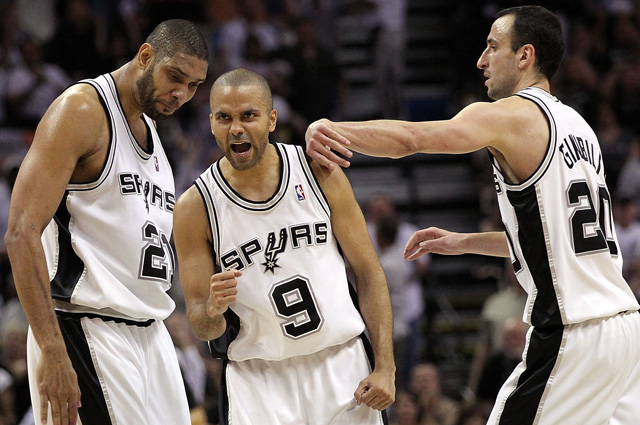 Not a bad way to finish a season you were expected to land middle of the pack. The San Antonio Spurs crushed the Sacramento
Kings
Wednesday night (while
Tyreke Evans
crushed
Gary Neal
in all sorts of dirty ways), and the
Lakers
dropped a bizarre game to the Golden State
Warriors
(their third straight loss, and so the Spurs wind up with the Z. As in the Z in the standings signifying they have clinched homecourt advantage in the Western Conference Playoffs.
There are questions about the Spurs, let's be clear. This thing became a race down the stretch because San Antonio started to show some very real weaknesses, particularly on the defensive end. But now's not the time for that. Now it's time to celebrate the Spurs for one of their best seasons in history and Pop's work in turning a team that was ousted in the second round by the
Suns
last season into the West's top slot.
The Spurs' offense really is a thing of beauty. It's not the constant-ball-movement, high-pace dervish that the Phoenix Suns were a few years ago, and in fact, it has slipped to third in the league in recent weeks. But it's still the very model of efficiency. It relies on individual players creating mismatches with ability, not necessarily athletic prowess, like
Manu Ginobili
's ability to slip between defenders and then whip passes to the corner, and
Tim Duncan
's ability to pass out of the low post to kick start rotations. If the defense remains set, they have playmakers to finish at the rim, like
Tony Parker
and
George Hill
. But if it starts to commit, the Spurs will punish you with a flurry of perimeter movement to find the open shooter. They have mainstays, like Tim Duncan's short game, and can hammer the glass with
DeJuan Blair
and
Antonio McDyess
.
Richard Jefferson
's perimeter ability has been a monumental reason for the Spurs' offensive up-tick. Jefferson jumped 12 percent from long range from last season, going from a 32 percent shooter to a 44 percent shooter. Much of this is attributable to his devotion to working out of the corner. Spurs' shooters have always made their money from there, and Jefferson finally bought in to that tactic. When he did, he found open look after open look. With his size and length, he's got an advantage on defenders trying to close, and he's lived up to the contract he signed this summer with San Antonio which was questioned.
The Spurs have won their fair share of big games against tough opponents, with wins over the Lakers,
Heat
,
Mavericks
,
Bulls
, and
Magic
. They feature a deep and formidable bench with shooters like
Matt Bonner
, rugged frontcourt rebounders like Blair and McDyess (depending on who's starting), and George Hill is a nice change of pace guard. Rookie Gary Neal has come on and shown that even rookies can get minutes in Popovich's rotations. This may be a deeper team than some of the championship squads.
But in the end, their hopes rest with the Big 3. Tim Duncan has said publicly several times this season that he knows his time is growing short. Manu Ginobili is no spring chicken. Popovich will only want to continue doing this for so long. And eventually the time will come for Peter Holt to trim down his expenses on a small market franchise. If this is the last ride for the Duncan-era Spurs, it will be the Big 3 that will have to carry them to glory in the face of the most loaded league they've ever had to battle through. But, quietly as always, this team has shown it knows how to win, and it's hungry for that fifth piece of jewelry.
Yes, there are defensive issues, but the fact remains: this is the best team in the Western Conference in 2011, and if they hit that playoff gear, there's every reason to believe they'll be right there competing for the title deep in the playoffs.