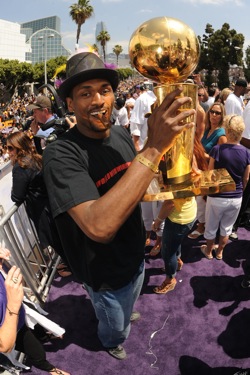 Posted by Royce Young
He talks, I write. Seriously, when is
Ron Artest
not
saying something interesting?
But in a column for the Orange County Register,
Kevin Ding mentions how Artest said he's done drinking.
And done with something else too.
Artest said he stopped drinking alcohol in January to focus on the season — and then ceased his championship celebrations, alcohol-wise, at the end of July. Artest said he "didn't even have the stomach for it anymore" while celebrating, which included him consuming his infamous Hennessy scotch before the Lakers' 11 a.m. championship parade .

"That's something that paid off so much," he said. "I've been drinking alcohol since I was 17 years old, 15 years old."

Gotta love Ron's openness, huh?

Artest also volunteered something along those lines at the end of his chat with reporters Saturday: "Even if they legalize marijuana, I won't be smoking marijuana."
Artest has come a long way. His NBA journey has certainly been a strange one, but one thing that Artest has never lacked is honesty. Drinking since he was 15? Does that explain anything for you?
As for Artest smoking weed, I guess he didn't officially say that he did smoke and has given it up. But I think that much was implied by the last comment.
The actual angle of Ding's piece was to talk about how Artest has slimmed down and was as light at 249 over the summer. Artest said he prefers to start the year at 260 and whittle down to 245 by the playoffs. No munchies, less boozing? Yep, I'd say that's a pretty good weight loss program.
Artest also mentioned how the drop in weight could help him against
Kevin Durant
but then acknowledged unsolicited that the cut in size could hurt him against the power of
LeBron James
in the 2011 Finals. So yeah, Artest is already thinking about that next victory parade.