Posted by Royce Young
Andrew Bynum
has battled injuries througout his short NBA career. But every time, he's come back and wowed Laker fans - and NBA fans in general for that matter - with his power and skill around the basket.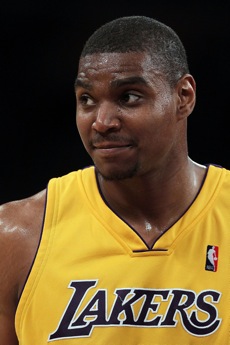 But it looks like people will have to wait until sometime around Thanksgiving to see it in action again.
Bynum said at Laker media availability
that he hopes to return to the floor by late November. Why the long recovery on a simple cartilage issue?
Bynum's doctor reattached the busted cartilage in his knee instead of snipping it off as a long-term career planning move. Thus the longer time needed for recovery. Supposedly, Bynum's knee should be stronger than before.

Any time you're seven feet tall and carrying around 280 or so pounds, staying healthy is an issue. Big men tend to battle leg and foot injuries throughout their careers and Bynum is no different (fighting obligitory mention of Greg Oden... fighting it...). Though most times, these type of things don't start catching up to guys until the later stages of their careers. But for Bynum, at age 23, he's already sustained two big blows to his knees.

This current injury is from a torn meniscus that he fought through for almost the entire 2010 postseason title run. He wasn't himself, but still, he was at least on the floor. Before that, in the 2007-08 season he broke his kneecap and missed most of the season and the entire postseason. Then in 2009, he injured his right knee and missed most of the remainder of the regular season before returning for the playoffs and championship run.

Bynum played in all 82 games in 2006-07, but other than that, the most he's played in was last season with 65. But when he's on the floor (and healthy), he's a force.

What does this mean for the Lakers? Being the stacked team that they are, not much. Bynum is of course an important piece to the puzzle, but in November, the Lakers can survive without him. Lamar Odom proved in Turkey that he's more than capable of spending time on the inside and that could be the path Phil Jackson chooses to go with. Or move Pau Gasol to center and Odom play the 4. Offseason signee Theo Ratliff could also be called upon if Jackson just prefers to keep his rotations the same.

The point is, the Lakers will be fine. As usual, they've got the necessary pieces and talent to get by a month without Bynum. And besides, the only time the Lakers really care about Bynum's health is at the end of the season, not the beginning.