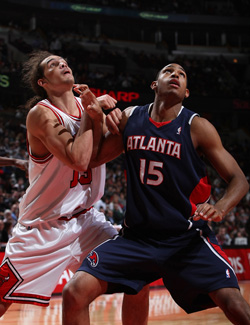 Posted by Matt Moore
When Al Horford received his 5-year, $60 million extension last week , there wasn't a whole lot of dissent. After all, Horford's a hard-working, versatile center who was an All-Star last season and has very much become a respected NBA player. Horford's been a huge part of the Hawks' success, and his extension is well-worth his production. But of course, whenever an NBA player is given money, there's someone to come along and doubt if he's worth it. This week's winner? Andrew Sharp from SBNation.com ! Sharp's not saying Horford's not worth it, just that Joakim Noah is the player he wants his team instead. This doesn't reflect any choice either the Bulls or Hawks have had recently, just that the money spent on Noah's extension is better spent. From Sharp:
By contrast, Noah is a weapon for the Bulls regardless of whether Derrick Rose feeds him on the low block. He operates out of the high post, uses his passing to break down defense while teammates cut off him, and then he crashes the boards. Where maximizing a good post player involves a complex balance within an offense, Noah's impact is simple.

If Horford can become a dominant scorer on the low block, then he's worth the investment it takes for Atlanta to get him involved. But if he's going to score 16 to 18 points-per-game for his career, wouldn't it make more sense to have someone like Noah, who makes an impact without his team making an effort to get him involved, has proven a terror in the playoffs, rebounds better, and changes more shots on the other end?

Again, it comes down to what you want from a big man in 2010.
Well, I suppose that's true. It does come down to what you want in a big man. And if you want a guy that rebounds? Sure! That's who you want. But if you're looking for a guy who can help you defend in the paint, and the overall best player? It's Horford. And it's not really close. Let's go to the tape!

Here's a look at the relatively basic stats, some advanced stats, and some numbers via Synergy Sports. Basic stats via Basketball-Reference . Opposing PER via 82games.com . Points per possession via Synergy Sports , with number of possessions in parentheses. Stats from 09-10, since we have such a small sample size this season.
| | | | |
| --- | --- | --- | --- |
| Category | Noah | Horford | Advantage |
| Points Per Game | 10.7 | 14.2 | Noah |
| Rebounds Per Game | 11 | 9.9 | Noah |
| Blocks Per Game | 1.6 | 1.1 | Noah |
| Points Per 36 | 12.8 | 14.5 | Horford |
| Rebounds Per 36 | 13.2 | 10.1 | Noah |
| Blocks Per 36 | 1.9 | 1.2 | Noah |
| FG% | 50% | 55% | Horford |
| PER | 17.9 | 19.4 | Horford |
| Defensive Rating | 98 | 101 | Noah |
| PPP Offense (Overall) | .94 (703) | 1.067 (1073) | Horford |
| PPP Off-Post: | .80 (104) | .92 (379) | Horford |
| PPP Off-P'N'R: | 1.09 (88) | 1.12 (112) | Horford |
| PPP Defense (Overall) | 0.85 (752) | 0.78 (1074) | Horford |
| PPP D-Post: | 88 (176) | .69 (283) | Horford |
| PPP D-P'N'R: | .86 (253) | .92 (318) | Noah |
| Opp. PER | 17.5 | 16.5 | Horford |
| Playoff wins against Celtics | 0 | 0 | Draw |
| Rebound Rate | 20% | 16% | Noah |
Some things to note here:
Noah was hampered by plantar fasciitis last season among a few other injuries. That's an injury that's going to hamper you, though by all accounts he was much better by the end of the year.
The Synergy numbers do bear out across earlier seasons.
For Defense on PPP, remember lower is better, because it's points allowed per possession.
If you're unfamiliar with Synergy, it actually tracks possession by possession with video. So these aren't estimated stats. You can actually go through and watch each possession the two spent defending the post last season.
The wins against the Celtics are due to Sharp's rather random comparison of the two players against the Celtics among other teams. If we're going to dramatically oversimplify matters then I thought we'd take it to the fullest extent.
It should also be noted Tom Ziller took down the assertion that Noah was superior in his post at NBA FanHouse's The Works Wednesday Morning.
So what do we see from these numbers? If you want someone to grab that loose ball after the miss? You want Noah. With those long arms, big frame, and Joakim-ness, Noah is your guy. But if you want a player who will force that miss? Particularly in the post? It's Horford, by a healthy margin.
Sharp makes the argument that Horford's scoring is somehow disruptive to the offense (which is a lot like saying bullets are disruptive in a gunfight). But as we see from the play breakdowns, Horford only used 4.3% of his possessions in ISO situations. Everything else came off of a set play. This on a team that too often was plagued by too much ISO play. Horford wasn't disruptive, if anything, he was part of the solution, not the problem.
So really, what we're left with is rebounding. On a team with
Josh Smith
,
Zaza Pachulia
, and a fleet of wings, Horford was 4% behind Noah, who was flanked by...
Taj Gibson
and
Luol Deng
. This isn't to say Noah's overrated as a rebounder. He's not. But the gap between he and Horford's work on the glass is not great enough to amke up for Horford's advantages on both offense and defense.
Joakim Noah is a terrific young player that is sure to be a central part of the Bulls' success, especially now that his low-post offense is not needed next to
Carlos Boozer
(once he returns from injury). But Al Horford, despite not grabbing headlines for his hair, expressions, or penchant for the green stuff is the more complete player. He's the underrated All-Star, but an All-Star for a reason.