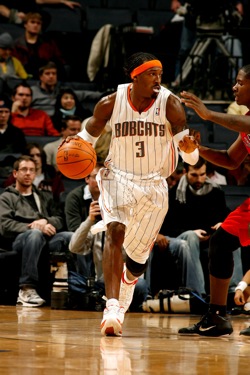 Posted by Royce Young
It's pretty clear that Michael Jordan is making some phone calls right now.
On the heels of reports
that Charlotte is interesting in trading for
Baron Davis
,
there's another rumor via FanHouse that Jordan has discussed a trade with Portland
sending
Gerald Wallace
,
DeSagana Diop
and
D.J. Augustin
to the Blazers for
Andre Miller
and
Marcus Camby
.
The Davis trade had a strong smell of desperation to it, but the possible deal with Portland makes a bit more sense. The
Bobcats
give up a lot more, but they don't jeopardize any long-term financial flexibility with the deal. Camby's contract is up after this season and Miller has a team option on his contract next season.
Obviously Jordan is interested in acquiring a more play-making oriented point guard. The Bobcats lost that when
Raymond Felton
went to New York over the summer. Most felt like Augustin might be able to handle that responsibility, but it hasn't worked out well. Plus, who knew the Bobcats would also miss the inside presence of
Tyson Chandler
. Camby would certainly be a solid addition in that sense.
But the Bobcats would lose a core piece in Wallace to get two veteran players. Much like the Davis deal, it's a bit of a now-or-never move, but the good news to this one is that it doesn't put a bunch of cash on the books for the next few years. Giving away Wallace hurts but if the Bobcats are considering a blow-up of the roster, this deal makes a lot more sense than the one with the
Clippers
. There's a
chance
the team could win with Miller and Camby (especially in the weak bottom half of the East), plus the Bobcats open up a number of new roster options with the new financial flexibilty.
The Blazers would certainly be interested in this deal as
Brandon Roy
has publicly voiced some issues he has playing with Miller in the backcourt. Plus there are reports Roy has even asked for either he or Miller to be moved because he doesn't feel they can co-exist in Portland's backcourt.
Ken Berger of CBSSports.com reported last week
that Portland is considering going young and trading Camby and Miller. Maybe this is a suitable deal for Rich Cho and company.
Wallace was an All-Star last season and one of the premier small forward defenders in the league. While he's a really good player, he's also under contract through 2012 with a player option in 2013 at around $9.5 million a year. Not a massive financial committment, but depending on where Portland is at, it's something long-term.
Portland isn't extremely strong at small forward with
Nicolas Batum
, but I'm not sure Wallace is that big of an upgrade. Batum has shown flashes of being a good scorer in addition to a premier defender. So what's better to do, cut into Batum's minutes but get Gerald Wallace or go with Batum as the future at small forward?
Just another rumored deal that probably isn't that close to getting anywhere near done, but it's clear that Jordan is on the move with his roster. And Portland makes a good candidate to play with.