Charlotte Bobcats owner Michael Jordan would reportedly face a $1 million fine for golfing with NBA players. Posted by Ben Golliver.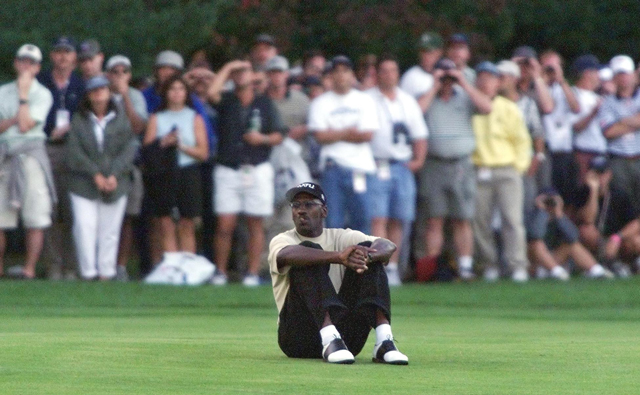 Losing seven figures on a golf course. Just another weekend for NBA legend and notorious gambler Michael Jordan, right?
Not quite. This million dollar hit comes with a twist: the NBA would be pocketing the cash.
The Reno Gazette-Journal reports
that Jordan, owner of the Charlotte Bobcats, is scheduled to play in the American Century Classic celebrity golf tournament. The only problem? So are a handful of NBA players, and the league has made it clear that team executives are not to have any contact with players during the ongoing lockout unless they're willing to stomach a $1 million fine.
Jordan, who became the first former player to own an NBA team when he purchased the Charlotte Bobcats outright last year, faces a fine of $1 million if he plays a round of golf at the ACC with a current NBA player.

Jordan called the NBA on Tuesday to check in, and the NBA confirmed he would be fined if he played with a current NBA player.
The
tournament's website
notes that Boston
Celtics
guard
Ray Allen
, Sacramento
Kings
guard
Jimmer Fredette
, Dallas
Mavericks
guard
Jason Kidd
and New Jersey
Nets
guard
Deron Williams
are all scheduled to participate.
Again, the rule comes off a bit silly and petty, but it's the rule. A round of golf would represent hours of contact and there is sure to be plenty of media in attendance. Two guys yucking it up as they putt out doesn't quite jive with the league's public blackout policy towards its player institute on July 1.
This warning to Jordan is the latest in a string of potentially fineable situations involving team employees and current players.
Earlier this week, we noted
a report that Portland
Trail Blazers
Acting GM Chad Buchanan was warned for comments made about Las Vegas Summer League. Also this week, Minnesota
Timberwolves
president David Kahn
called a press conference
to fire coach Kurt Rambis and mentioned multiple players during the question-and-answer session with media members. And, on Wednesday night, Dallas Mavericks owner Mark Cuban
attended the ESPYs with his team
, although the league clarified that the contact had been pre-approved on the condition that no league business or CBA discussion would take place.
Since the lockout began on July 1, the NBA has yet to publicly issue a fine to a team executive who violates its gag order policy.
Hat tip: Ball Don't Lie