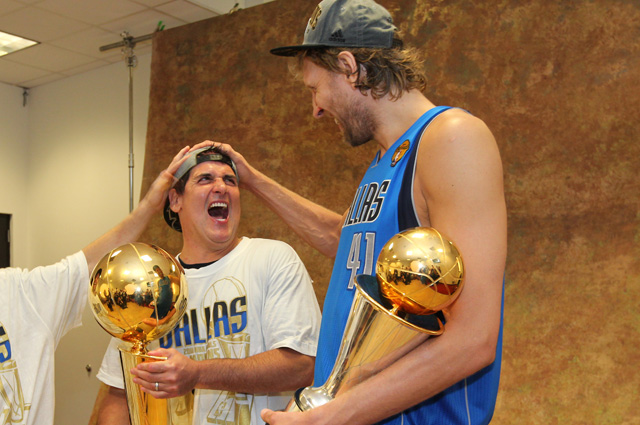 Posted by Matt Moore
MIAMI -- He's the owner you want. You may despise his attitude, his bombastic attraction to the spotlight, his incessant assaults on officials, and how he blatantly and painfully reaches out with metrics and trades and promotion in every way he can. But it will not change what you have to admit, what you had to admit before these Finals and what you cannot escape after the Dallas
Mavericks
secured their first NBA championship.
Mark Cuban is the owner you want.
For 11 years Mark Cuban has invested in the Mavericks. Not only money (has he ever spent money), but time, energy, brainpower, manpower and emotion. He poured his lifeblood into the Mavericks. He fought with other owners, he fought with Phil Jackson, he fought with the league over every officiating tendency. And year after year he was denied the promised land, year after year he was met with only failure. How many other owners would continue to pump that much money, that much emotion into an investment that had caused so much disappointment and grief?
Cuban would. Cuban did. And now, he's got the ring to show for it.
As Cuban sat at the podium Sunday night, a you-know-what-eating grin on his face, he didn't offer a cocky "We knew this would happen." There weren't any pot shots at the league. There was only gratitude. Cuban, for all his faults, wanted this badly. And after finally reaching the summit, instead of gloating about how smart he is, instead he talked about what he had learned.
"I learned chemistry matters," Cuban said. "That it's a team game. That you have to have players that believe in each other and trust each other and trust your coach. And that's a process. It doesn't happen overnight."
It didn't for the Mavericks. Over the past 10 years they've seen the kind of heartbreak that can fracture franchises. The Big Brother
Spurs
always lording over them. When they finally pushed past, they slammed head-first into the
Heat
who -- in 2006 -- celebrated capturing the same trophy Cuban clutched as his own Sunday night. The next season, they lost in one of the most devastating playoff upsets in NBA history, a loss to the
Warriors
that destroyed the hopes of one of the truly great teams of the 2000s. They dealt with injuries, second-guessing of trades, their methods, the metrics they used. And on Sunday, all of it was wiped away in a champagne rain of celebration. Cuban was in the locker room, boisterous as ever, and oh, yeah, even gave the media what they came for, a magnificent I-don't-care-I-just-won-the-title curse on national television.
Shawn Marion
was asked in the locker room if Cuban could talk now. Marion, high on the moment, said: "Oh my God, if you think I have swag? He's got ultimate swag!"
That ultimate swag is defined by Cuban's intelligent decision-making. He runs his mouth because he backs it up with his pocket book and in his approach. Maybe more than anything, these Finals showed that it's not only about putting together a championship team, it's about a championship organization. From the head coach -- who was respected, won but ultimately was fired everywhere he went -- to the advanced metrics approach Cuban relentlessly pursued, to the massive amount of in-game entertainment Cuban puts together. The Mavericks are a class-act organization, even if Cuban doesn't always portray that. And as of this moment, it no longer matters.
They're a championship organization.
Cuban spoke effusively about
Dirk Nowitzki
's work ethic and about what the Big German has meant to his franchise.
"I never questioned Dirk. Never even a little bit," Cuban said. "Dirk helps set the culture of a team. And culture is critically important for a winning organziation. It's critically important for a successful team."
He credited Carlisle, and even said that metrics played a part in the decision to hire Carlisle (though his interview clearly was more important). He credited the people in his organization, from Donnie Nelson to Keith Grant and on down. Cuban didn't act like he did all the work, though to think Cuban isn't heavily involved day-to-day, that he didn't help build this team, is naive. He put in the money and time, the blood, sweat and tears.
And now he finally has his trophy to show for it.
Fans are so often stymied by ownership. They'll know their guy won't spend, or he'll spend irrationally, or he'll always overreact to situations, or that he's completely disloyal. What they want is a guy who will spend to win, who will work to improve no matter what, who will stay involved and fight for his team. They want an owner who does all the things the guy at that podium did on Sunday night, grinning to all the world and asking the press when he walked in, reeking of champagne and sweat, "Did anybody inform you guys we're the world champions?"
They want an owner like Mark Cuban.
Hail to the King, baby.