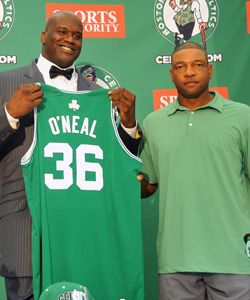 Doc tells the big man some hard truths before bringing the MDE on board.
Posted by Matt Moore
When the
Celtics
signed
Shaquille O'Neal
, questions were rampant about how this was going to work. O'Neal has remained adamant throughout his career's downward slope that he's still capable of his former glory. It was pretty normal for people to start wondering exactly how this was going to work, and if Shaq was going to start making noise about his overly exaggerated role on the C's.
Well apparently, Doc Rivers nipped that in the bud.
The Boston Globe reports that before Shaq signed with Boston, O'Neal visited Doc Rivers' home for a little talk. And there,
Rivers lowered the boom
. Via the Globe:
"He told O'Neal he may not start. He told O'Neal his skills had declined, so touches won't be a priority. He told O'Neal he was a liability on pick-and-roll defense. O'Neal sat there with a blank expression, and Rivers thought there was no chance of a deal getting done."
It must be nice to be Doc Rivers. Championship ring. Lots of dough. And the ability to tell the Most Dominant Ever that he probably won't be getting his name called in the introductions and that he sucks at pick and roll defense. I wouldn't tell him that. He'd eat me.
Of course, if I'm being a skeptical, cold-hearted son of a gun (and I am), I'd point out that saying you're totally fine with something in preseason is one thing. Keeping your mouth kept during a losing streak in which you don't feel you're playing enough is a different matter. And O'Neal knows he brings more offense and total size than either
Kendrick Perkins
or
Jermaine O'Neal
. But so far, it looks like the O'Neal has honestly bought into "the Celtic way."